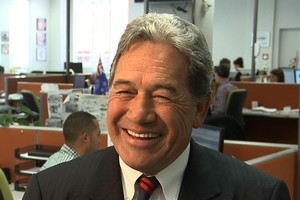 Having not so long ago professed not to be worried in the slightest about signs that Winston Peters was on the rise in the polls, John Key is now whistling a rather different tune in a somewhat shrill tone.
It seems the Prime Minister is no longer quite as confident as he was that Peters will not be on his way back to Parliament next Saturday night with five or six New Zealand First colleagues in tow.
National's leader has suddenly zeroed in on Peters' decision to rule out any post-election confidence and supply agreement with either National or Labour and instead sit on the Opposition benches.
Key has pronounced this to be a serious threat to the country's stability at a time when financial crisis elsewhere puts a premium on stability.
Key's warning has to be seen in the context of the party leaders heading into the final week of the campaign - a time when many people are firming up their voting intentions and the sloganeering and scaremongering consequently gets even louder and stronger.
Witness Phil Goff's attempt at Labour's Auckland rally yesterday to define the election as being solely about asset sales.
Trying to remedy his tactical mistakes over the "teapot tape" which Peters has exploited mercilessly, Key's pitch to voters this week will be that only the centre-right will be able to form and run a stable government.
The best Labour could hope for - Key will argue - would be to try and work out some arrangement with the Greens and the Maori Party, with New Zealand First abstaining on confidence and Budget-related motions in the House rather than voting against them.
However, it is mathematically conceivable that National could similarly end up relying on New Zealand First abstaining on such motions if National's support dropped only a few percentage points on current polling levels.
Peters is typically coy on the question of whether his party would abstain. But clearly he is punting on an election outcome which would see National beholden to him. That would be further payback for Peters after Key shut the door on working with him.
Key has filled the vacuum, however. He is painting New Zealand First's post-election positioning - which was the response to his unwillingness to work with Peters - as destabilising . This does not necessarily follow.
No prime minister could put himself or herself in a position where he or she was relying on an Opposition party abstaining without some guarantees.
However, the Governor-General would first have to be assured that the Prime Minister had the confidence of the House before the go-ahead was given to form a government.
The pressure would therefore go on Peters to make his position clear and offer some guarantees it would last three years.
Once the Government was formed, Peters would not be able to pull it down willy-nilly. That would force an election and Peters would get the blame.
He has sat in the political wilderness for the past three years. He is hardly going to precipitate another election which would surely jettison him back there - this time for good.
SIDELIGHTS
They said it: "We get wealthier when we sell more to the world than when we buy from the world." - John Key's Economics 101 lecture on TVNZ's Q&A programme.
What is happening today: John Key and Phil Goff square off in TV3's debate; a worm-like Roy Morgan Reactor device will measure responses of the viewing audience.