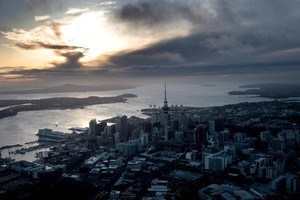 The Auckland Council is preparing a $33 million rescue package for households facing hefty rates increases next year.
The majority of Auckland's 440,000 households will pay an extra 3.3 per cent in rates to provide a rebate for 120,000 households whose rates increase by more than $300 or 15 per cent under a new rating system.
The 3.3 per cent rise is on top of whatever their rates go up or down due to a number of factors, such as new property valuations and a proposed uniform annual charge of $350.
Thousands of Aucklanders are in for a shock when the rating systems of the eight former councils are merged into a single system next year.
Suburbs, such as Mt Eden, Mt Roskill, Remuera and the eastern suburbs are particularly hard hit by the proposed rating system and property revaluations with many properties' increases running into the hundreds, and sometimes thousands, of dollars.
However, many West Auckland, Manurewa and Papakura residential ratepayers will see their rates fall by up to $500, or more in some cases.
Mayor Len Brown said the council was determined the introduction of a single rating system was fair, balanced and affordable, which was why a rebate was being offered to those worst affected. Moving to a single rating system based on capital value next year was set in law by the Government and out of Auckland's control, he said.
Strategy and finance committee chairwoman Penny Webster said: "It will mean that the rest of the ratepayers will pay more than they would have before the remissions were taken into account."
Under the rebate, no residential ratepayer will pay more than $300 or 15 per cent next year, whatever is the highest. Someone paying $1000 in rates this year will pay no more than $1300 and someone paying $3000 this year will pay no more than $3450.
Also someone who does not qualify for the rebate and whose rates are $1000 will pay an extra 3.3 per cent or $33. Someone whose rates go down by 10 per cent will get a 6.7 per cent rates decrease when the rebate kicks in.
The rebate is expected to apply until the new rate is met. For example, if a new residential rate has increased from $1000 to $1500 under the new system, it would rise to $1300 next year and $1500 the year after.
Ratepayers will not have to apply for the rebate - it will be applied automatically by the council.
The strategy and finance committee has decided on a rebate of $1000 and 20 per cent for business and $500 and 15 per cent for farm/lifestyle properties.
Chief finance officer Andrew McKenzie said officers still had to do the modelling to see how much these rebates would cost business and farm/lifestyle properties which did not qualify for a rebate. Officers considered several options for a rebate, including setting a fixed-term limit, but found the proposed system as the most efficient way of supporting ratepayers facing big rates increases.
HOW IT WORKS
* Households facing rates increases of more than $300 or 15 per cent - whichever is higher - qualify
* Someone paying $1000 this year will pay no more than $1300 next year ($300 increase)
* Someone paying $3000 this year will pay no more than $3450 next year (15 per cent increase)
* Households who do not qualify pay 3.3 per cent more in rates
* Someone paying $1000 next year will pay an extra $33 (3.3 per cent)
* Someone whose rates were to fall by 10 per cent will in fact see them fall 6.7 per cent (minus 10 per cent + 3.3 per cent = minus 6.7 per cent)