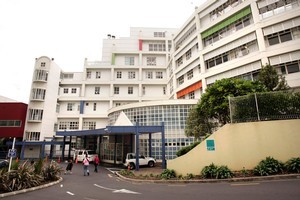 When it opened 20 years ago, Starship was a state-of-the-art children's hospital. But it's going to cost so much to refurbish to meet modern needs, hospital bosses thought about abandoning it to start again.
Problems include a lack of space for parents to stay; too few bathrooms; insufficient storage; and a shortage of surgical theatres.
Many parents sleep on mattresses on the floor, on La-Z-Boy chairs, or - if they're in a retrofitted room - a bed that folds away into the wall.
Auckland District Health Board's director of child health, Dr Richard Aickin, said among the options was building a new hospital and using the existing one, which opened on November 18, 1991, for offices.
Aickin said the cost of upgrading the hospital was daunting. "There comes a point where you add all those numbers together and say 'Wouldn't we be better off building a new building?'."
For now it had been decided to stick with the existing building because designing and funding a new children's hospital would be a "lengthy and arduous" process.
"We have to have Starship as a facility which is completely fit to purpose for many years to come."
Papers released to the Herald on Sunday under the Official Information Act show the DHB expects to spend about $16.5 million doing up level four, five and six of the building over the next three years and $27 million on theatre redevelopment.
Level seven, the top floor for oncology and haematology, was refurbished in 2009 and level six for neurosurgery and organ transplants was next in line for a do-up.
"The Starship Foundation has committed to a fundraising campaign and they're making good progress on that," Aickin said. "We have an anticipated start date for October next year for the rebuild."
That schedule still left wards on levels four and five more or less in their original condition, which one visitor described to the Herald on Sunday this week as "grim".
Aickin said the main failure was looking after parents. The majority of Starship patients were aged under five, and needed parents near for confidence and emotional well-being.
Parents also fed their babies, changed nappies and comforted them, allowing nurses to do other work.
Most parents would do anything to be with their sick child.
"I think they recognise that we are trying to support them but we don't have the facility that has the built-in beds and bathrooms that we would if we were building it today."
Despite its shortcomings, Starship remained a strong, trusted brand and Aickin said he loved working there.
KIDS KEPT COMFORTABLE
Josh and Cathy Faaui-Siakumi
Josh Faaui-Siakumi has been in Starship's oncology ward since being diagnosed with acute myeloid leukemia on September 23, three days before his sixth birthday. The Blockhouse Bay boy had two rounds of chemotherapy and would need another before having bone marrow transplant. His room was on Starship's seventh floor, refurbished 2 years ago. The floor was wood-look vinyl, the room had plenty of light and space for parents and visitors. A nearby playroom had a porthole to a lunchroom, so parents could relax while watching on. Josh's room had an en-suite bathroom and a fold-down bed which his mum Cathy said was "really comfortable".
"It's great here, it's really nice, they always keep it so clean," she said. They'd been to other parts of the hospital and knew that Josh's ward was nicer. "He thought he was having a holiday when we first came in here," she said.
SPACE AT PREMIUM IN PLACES
Olivia Samson-Taylor, Trent Taylor and baby Samuel
Olivia Samson-Taylor is squashed into a corner of Starship's fifth floor where her 8-week-old son Samuel was admitted on Tuesday after it was found he wasn't growing properly. It wasn't yet clear what was wrong.
At this stressful time, only a thin curtain separated them from another worried mum and young infant patient. When Samson-Taylor's husband Trent Taylor was visiting, there was barely room to move around her suitcase on the floor, the little fold-down bed where she'd been sleeping and Samuel's cot. The room had one TV between the two, and she knew of only one shower on the wing for parents.
"When you have people visit you, where do you go without disturbing other people?"
Samson-Taylor said it was hard to breast-feed in the cramped room and on the chair she'd been given.
"The staff are really awesome," she said, adding, "They try to make everything as bright as possible."