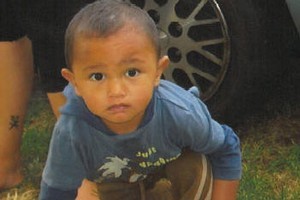 Police investigating the violent death of a two-year-old boy have been given "inconsistent" accounts by adults who were present during the assault.
James Joseph Ruhe Lawrence - known as JJ - of Takitimu St, Orakei, died on Monday morning, before ambulance services arrived.
A post-mortem released today showed the toddler died blunt force trauma forceful enough to severely damage his internal organs.
Detective Inspector Scott Beard said investigators said four adults and three children were in the house at the time of JJ's death.
"Many of these people have co-operated fully with us but some accounts of what happened to two year-old JJ are not consistent with what we know from the post-mortem results.
"We need the adults to tell us all they know about what happened to JJ - for his and his wider family's sakes."
Grant Bennett, northern regional director of Child Youth and Family, said the case of James' safety came to their notice four weeks ago, but neither James nor his mother were previously known to the agency.
"We visited the home several times and were actively attempting to find mother and child. Despite this, we had been unable to speak with his mother or sight James to check on his wellbeing," said Mr Bennett.
Neighbours said a couple in their 20s or early 30s had moved in only a couple months ago. Te Pokuru Titoko, 19, who lives next door, said his family had occasionally helped the man who lived with James jump-start his car.
Mr Titoko said that on Monday morning he heard a woman scream, "What did you do? What did you do?", to which a man yelled back, "I don't know."
He said the woman then screamed, "I hate you, I hate you." A man replied, "Sorry."
- HERALD ONLINE