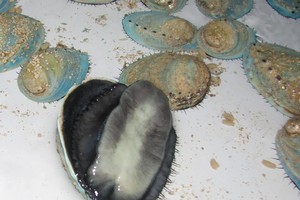 The largest haul of illegally caught paua this year was likely destined for the black market, fishery officers say.
On Tuesday officers caught a man near Wainui in Akaroa Harbour with 248 paua - well over the legal daily limit of 10 per person.
The officers had seen three men diving in the harbour and waited for them to come ashore.
They found one of them in a cave shelling the paua, most of which were below the minimum legal size of 125mm.
Field operations manager Peter Hyde said it was the largest apprehension so far this year, and summer hadn't even started yet.
"I suspect the paua would have been destined for the black market," he said.
Fishery officers seized a vehicle and the men were now likely to face charges under the Fisheries Act.
Mr Hyde says Wainui has been a problem area for paua compliance, and an honorary fishery officer had recently been appointed to focus efforts on the area.
"With the support of local people reporting illegal paua gathering I am sure we will see an improvement in compliance in the not too distant future."
- APNZ