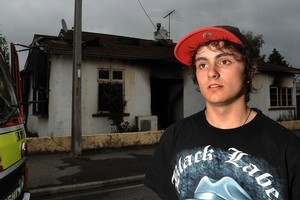 A teenager says he did not think about his own safety when he ran into a smoke-filled house in Milton, Otago, and rescued a young boy.
"I didn't really have any emotions at all at the time. I was just concerned about the kid," said 18-year-old Daniel Mackie. It wasn't until he had handed the child to its distraught mother that he realised what he had done.
"It kicked in a bit afterwards... the biggest adrenaline rush I have had in my life. I just felt rapt I had got the kid out. If I hadn't been there he might have died."
A woman, a man, at least three young children and a dog escaped from the Union St bungalow about 4.40pm on Wednesday, moments before it was engulfed in flames.
Bystanders said the man had escaped through the back door with a fourth child, but that was unable to be confirmed last night.
Mr Mackie, a trainee auto-electrician, said he was standing outside his workplace talking to a friend when he saw the woman rushing out of the front door of her neighbouring house carrying a newborn baby.
"All of a sudden smoke started coming from the house. I asked her if anyone was still inside and she said her little boy was. I just ran inside yelling, 'Hello, hello, where are you?'
"I looked into the lounge and the little kid was there. He was just standing there. He didn't know what to do. I grabbed him and headed straight outside."
Mr Mackie's friend, Dwayne McLean, followed him into the house and out again. They crouched to try to avoid breathing in the thick smoke.
As they reached the hallway by the front door there was a small explosion and the walls burst into flames. "One minute there was smoke and 30 seconds later the house was blazing."
One of the children was taken to Dunedin Hospital suffering smoke inhalation.
- OTAGO DAILY TIMES