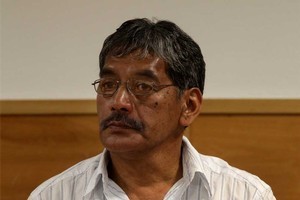 The parents of a teenager flung more than 50m through the air after being hit by a repeat drink-driver have told how the tragedy has ripped their lives apart.
Bay of Plenty forklift driver Geoffrey Manukau, 63, was yesterday jailed for two years over the death of 18-year-old Laurie Stevens last year.
Manukau already had two drink-driving convictions when, on April 10, he climbed behind the wheel after drinking a dozen cans of beer during a day's fishing.
His headlights were dipped as he drove along State Highway 33 towards the Paengaroa Motor Lodge and Motel shortly before 7pm.
Mr Stevens, 18, was staying at the nearby campground and, heavily drunk and distressed from a heated fight with his girlfriend - he told her he might as well kill himself - he began walking backwards across the road.
Some motorists managed to swerve around him but Manukau's vehicle knocked him 56m through the air.
It wasn't until Manukau arrived home and told his wife he had hit someone and may have killed them that he returned to the scene to search for the body. Unable to find anyone, he and his wife returned home and phoned the police.
Less than two hours after the crash, Manukau was breath-tested and returned a reading of 547 micrograms of alcohol per litre of breath.
Yesterday, the Tauranga District Court heard how Manukau told police: "Why put this on me if he's sick of living?"
Judge Peter Rollo took the teenager's actions into account but told Manukau that a third drink-driving conviction within three years was a "totally unacceptable situation".
"I emphasise again you were drinking all day and deliberately decided to drive home, taking your chances, [which] unfortunately caused a tragic outcome," Judge Rollo said.
"A young man has lost his life and albeit that he, to some extent, contributed to the outcome, it was your driving that killed him."
Judge Rollo said the lives of Mr Stevens' family had been "put on hold" as they struggled to deal with the loss.
Parents David and Miriama were too distraught to remain in Te Puke and quit their jobs and left for a new home in Taumarunui.
A tearful Mrs Stevens struggled to read a victim impact statement in court, saying she felt "deep sadness" and "huge guilt" over her son's death.
Mr Stevens said the death had "affected the family hugely" and had left them "hurt and angry". He said his 14-year-old daughter had lost a big brother she looked up to.