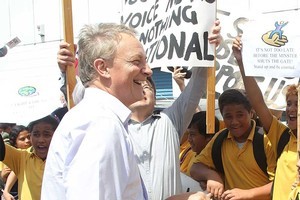 Pupils of a Kawerau school which is due to close by 2013 marched their way onto the campaign trail yesterday, planning a protest to coincide with the visit to the town by Labour leader Phil Goff.
The Kawerau Intermediate School pupils, led by their principal, Darryl Aim, marched along the street as Mr Goff appeared to meet carpentry students at a trade training centre.
They carried signs protesting against Education Minister Anne Tolley's decision this month to merge the intermediate and college into a new senior school due to open in 2013.
The protest delighted Mr Goff, who said he had not known it was planned.
And even in Kawerau there was noise about the other issue Mr Goff was enjoying yesterday: Prime Minister John Key's refusal to discuss the tapes of his conversation with Act's John Banks. At the tail end of the protest was a sign asking, "What's on the tapes?"
Mr Goff did not promise to save the school, but told the students a Labour government would listen to the community more before making such a decision.
Kunere Timoti, 12, said he believed the intermediate school provided the best education possible "rather than going straight into a secondary school". His concerns about going straight to high school were "because you get bullied".
The intermediate and its community have long protested against suggestions the school would close, including marching on Parliament and accusing the Government of a sham consultation process.
Mr Aim told Mr Goff that the community had been through a very tough 12 months and had made it clear it wanted the intermediate retained.
Mr Goff was in Kawerau to highlight Labour's opposition to National's proposed partial state asset sales. He visited the Kawerau Geothermal Power Station with Mayor Malcolm Campbell to make his point and told veterans gathered at the bowling club, "If I'm Prime Minister, I won't be selling your dams."
Mr Goff also announced his party's biosecurity policy at a PSA-disease-affected kiwifruit orchard in Te Puke. He said Labour would restore $2 million to cover frontline jobs such as quarantine officers. He said the cost to the economy of a disease such as PSA was too big to take risks on biosecurity.