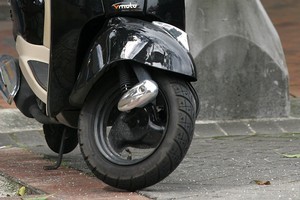 A couple of days ago a motor scooter rider was delivering pamphlets in our street in Birkenhead. This was a licensed-for-the-road Vespa type of vehicle, and the rider was fully kitted out in reflective jacket and crash helmet.
But he was riding on the footpath to carry out his mission and it was full throttle between letter boxes. This did surprise me and I was even more surprised when I found out the pamphlet was from the Auckland City Council. So is this legal?
Terry Croft, Birkenhead.
There are different categories for mopeds and motor cycles, but regardless of the legal status of each, neither may be ridden on a footpath in New Zealand. This information has been gleaned from the New Zealand Transport Agency and the NZ Police websites, and overrides any council bylaws. So your delivery person should have been on a bicycle or on foot.
I have bought an older classic BMW with registration on hold. I would like to transport it from Wellington to Auckland behind my car using a solid towing bar or A-frame. Can this be done legally without using a car trailer as I feel it is safer towing a car on a solid bar, with a driver in it that can help with the braking?
Ian Erasmus, Auckland.
Mr Erasmus, what you are suggesting is both illegal and downright dangerous, so please don't even consider doing it. Here is some information from the ever-helpful Jack Biddle, AA's motoring advice manager.
First of all, you may not tow an unregistered vehicle on its own wheels - it must be transported on a trailer.
Second, to have a person in the vehicle to help with the braking is unsafe and inappropriate. It is difficult to imagine how the driver of the towing vehicle would communicate with the person in the towed car and how the braking arrangement would work.
The towed vehicle is also required to have brake and indicator lights that work in synchronisation with the towing vehicle.
Lastly, the vehicle towing the old car, which we now hope is safely mounted on a warranted and registered trailer, must be capable of pulling the combined brake load of the old car and the trailer. For example, a Toyota Landcruiser could probably do it, a Toyota Corolla could not.
Do private schools have their own rules regarding the use of public main roads? The parents of students at King's Prep School in Remuera certainly think so, as every morning they park on the yellow lines outside the school gate to drop off their children. This then blocks the through traffic for everyone travelling east along Remuera Rd as the right hand lane queues up to turn into Omahu Rd. Do traffic officers ever blitz schools for instances like this? It has been happening all year and is steadily getting worse. Who do you contact to request a blitz be done?
Kaye Chadderton, Remuera.
Council traffic wardens do patrol yellow lines on roads as time and staff availability allow. Parents with children at private schools certainly do not have privileges that others don't enjoy. Council, here's your chance to get rid of this nuisance, and maybe gather a bit of revenue at the same time.