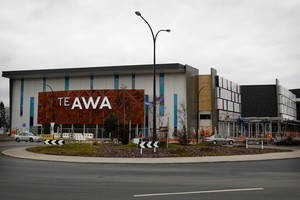 The owners of Hamilton's two suburban shopping malls, Tainui Group Holdings and Westfield, say a move to a capital value rating system which is set to triple their rates bill is inconceivable and ridiculous.
The city council yesterday, on the third of a four-day hearing, embarked on its proposal to move from a land-based to capital value rating system with 12 key stakeholders given the chance to submit to the council.
Tainui Group Holdings, which owns The Base and Te Awa, said in its written submission the proposed change would result in its rates bill increasing from $265,000 to $921,000 by 2016-17.
TGH corporate services general manager Tama Potaka said that while Tainui would benefit from lower rates in the CBD, an increase of 3.5 times in suburban areas was inconceivable. Tainui supported an equitable rating system but he believed neither the existing nor the proposed changes supported that.
He said the council would be better off bowling over run-down and obsolete buildings and replacing them or selling them at a low value, so they could be upgraded if the aim of the change was to revitalise the CBD. Offering cheaper rates to tenants would "have a minimal effect".
Westfield New Zealand development executive Allan Lockie said he did not want its 126 retailers to be unfairly burdened just as an avenue for additional funds. Westfield called on the council to retain the current system or introduce a differential to ease the pain off high capital to land value ratio properties, such as shopping centres. Westfield calculated an increase from $241,594 to $891,663 under the proposal.
"The increase is ridiculous and unjustifiable, even if the proposed increase is phased over five years. No retailer/shopkeeper can be reasonably expected to pay increases in taxes of this amount," Mr Lockie said.
The Employers and Manufacturers Association was one of few supporters of the change.
EMA executive officer Peter Atkinson said it had been calling on the council to review the rating system for a number of years, despite only 50.5 per cent of members surveyed supporting the move and 40.2 per cent wanting the status quo.
Mr Atkinson supported the removal of the current commercial, multi-unit and inner-city residential differentials.
Hamilton Citizens and Ratepayers Association president John Easto said the capital value rating system was unfair on residents.
The hearing ends today and the council will make a decision about whether to go ahead with the proposal next month.