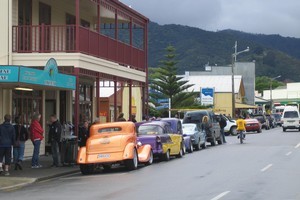 Coromandel residents say a proposed supermarket looks like a warehouse and is not in tune with the town's heritage values.
The Thames Coromandel District Council last month received plans for an enlarged Four Square store that would be built away from the store it would replace, but still on Wharf Rd.
The plans allow for 475sq m of retail space, a 245sq m service area and more than 20 carparks. If it is approved, it will dwarf neighbouring stores.
The council has received more than 140 submissions on the proposal, and a local business owner and the Coromandel Heritage Protection Society have voiced concerns about what effect the supermarket could have on the street's colonial charms.
Wharf Rd is recognised as a heritage area under the council's district plan and businesses and residents must comply with strict conditions for any consents.
The chairman of the protection society, Dave Foreman, said the proposed store "looked like a warehouse" and had adverse effects "which are more than minor" in relation to the town's heritage, parking and traffic.
"One would have hoped the TCDC would have publicly notified the issue," said Mr Foreman.
"The principal aspect in the district plan when it comes to Coromandel with regards to heritage is the streetscape, whereas in Thames it's the buildings, and this proposal, given the small nature of the town, is a significant development in the main street."
Mr Foreman said 40 per cent of the shop's frontage appeared to be a blank wall and nearly 90 per cent of the Charles St side had no windows.
Star and Garter pub co-owner Karen McMillan said Four Square owner Foodstuffs should comply with heritage criteria and main street parking requirements.
"All we are asking is that they come on board with the township's vision of the colonial impression - not a big warehouse that is not in keeping with our heritage character."
Council development planning manager Mark White said Foodstuffs had to make the new store "look like a heritage building yet comply with modern-day standards".