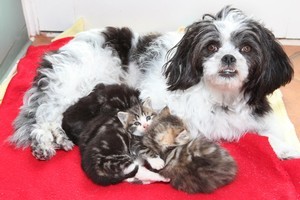 Molly the dog has never had puppies of her own - but that hasn't stopped her from feeding a litter of four purr-fectly contented kittens.
The year-old maltese bichon shih tzu cross adopted the 5-week old kittens and allowed them to suckle after they were brought to her Morrinsville home by owner, Nicki Quinn, a fortnight ago.
Quinn watched in amazement as the kittens - three males and one female - burrowed into Molly's furry belly.
"All the kittens started sucking. I calmed the dog and from then on in, she's taken care of them."
Quinn rescued the kittens after they were found nesting with their mother at the Rushton Rd Kindergarten.
The felines couldn't stay there and when the mother cat's owner didn't want the kittens, animal-lover Quinn offered to take them home.
She bottle-fed them and waited a few days before introducing them to Molly.
"We have three cats here, and Molly has always hung out with my cat Sooty. They sleep in the kennel together and are best buddies. When I introduced the kittens to Molly, we watched over them for about an hour to make sure she didn't do anything to them.
"She's not feeding them enough milk, but there is milk coming out. She's nursing them, she's sleeping with them, she's cleaning them. She's taken over the whole care of them, I just have to top them up with extra bottled milk," said Quinn.
She was deciding whether to find new homes for all the kittens or if she would keep one and add it to her busy home of Steven, 14, Liam 8 and Charlotte, 4, as well as Molly, nine laying hens, four 7-week-old chicks, three cats and a cockatiel.
"The kittens follow Molly around. She picks them up in her mouth, carts them off to the kids' bedroom and hides them under the bed," said Quinn.
"The astounding part to me is that she's never had a litter of puppies, you wouldn't think that there was milk there."
Dr Kate Hill, senior lecturer at Massey University's Institute of Veterinary, Animal and Biomedical Sciences said it was common among wild dog packs for some low-ranked or "beta females" to experience "pseudo" pregnancies and produce milk and feed the young of "alpha female" mothers.
Hill was aware of "inter-species" suckling and said for Molly to have produced milk, the kittens must have arrived with perfect timing in her hormonal cycle, the way a wild "alpha female" bore puppies to coincide with a "beta female's" pseudo pregnancy.