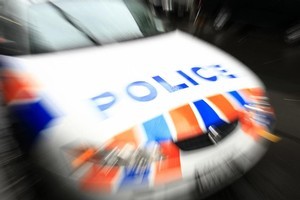 Passers-by and eyewitnesses supported the weight of a teetering tourist bus while three men smashed its windows to rescue trapped passengers after a spectacular crash in Auckland yesterday.
Five Asian tourists were admitted to hospital after the accident in the inner suburb of Eden Terrace.
Gardener Rob Laery was working with Rory Tai and Stuart Davis at an nearby property when they heard the smash just before noon. The men rushed over to investigate.
"It was a big bastard," Laery said.
The bus, which had allegedly been rear-ended by a Nissan Silvia, had smashed into a wall and bushes beside the pavement. Crumbled concrete and scattered foliage littered the streets as the bus balanced above the footpath.
"It was tipping from side to side," Tai said.
Witnesses were stunned to see more than 30 tourists inside. Some appeared catatonic with shock; others ran around panicking, causing the bus to rock further.
As dozens of bystanders watched in horror, Laery said he and his friends knew they had to rescue the tourists.
"We literally held the bus up," he said. "I couldn't get into the driver's door so I climbed up. I broke a window. I got two people out. The driver was cowering inside."
More bystanders ran over to help with the rescue.
"There were about 10 of us," Tai said. "It was nerve-racking. We didn't know where the door was."
Laery said leaking fuel trickled down the street, sparking fears of fire.
When police officers arrived to speak to witnesses, Laery was also in shock. "It was bloody scary. I couldn't even write my signature."
The driver of the Nissan was a young man who, Laery said, had been "going very fast".
"He was in tears - as white as a sheet."
Tai also saw the driver, who had a few minor bruises. "He was pretty dazed. But after two minutes, he was just caring about his car. He wasn't really concerned about the injuries."
A St John Ambulance spokeswoman, Sarah Martin, said all five tourists, whose injuries ranged from minor to moderate, were taken to Auckland City Hospital.
- additional reporting Imogen Crispe