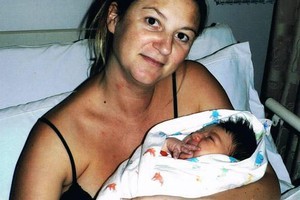 A terrifying boat accident at five months pregnant has inspired a New Zealand woman to write a book about her ordeal.
Former Tauranga woman Kimberley Chin Poy instigated the book, Wednesday Sisters, with her coffee group after finding all eight new mums had compelling stories.
The book launched last week.
"We wanted to write a book to show, with pregnancy and motherhood, you don't always get what you expect," Chin Poy said. "No one got the fairytale after all. We all got something a little unexpected."
Chin Poy, now in Australia, was trapped under a capsized boat in 2007 during a sightseeing trip in Malaysia.
One woman died after the boat carrying 12 tourists rolled and sank in the Sulu Sea.
Australian and New Zealand media clamoured for the story, especially that of the pregnant Chin Poy. Wednesday Sisters began as a way to work through feelings of guilt and confusion that surfaced in the months after her daughter Willow's birth.
"I was confused because a lady died in that accident.
"I thought, should I have gone back down to save her? Was there anything else we could have done?"
Chin Poy survived when her lifejacket floated her into an air pocket beneath the boat and she was able to take a breath and dive out.
"I thought it is not my time to go, I have a baby on the way, I have a husband waiting for me at home.
"I wanted to write about it to let people know I wasn't being reckless going on this trip when I was 26 weeks pregnant."
Two years ago, and just before the birth of her second baby, Louis, Chin Poy suggested the group share their stories.
"After getting to know these women I realised we all had a story to tell," Chin Poy said.
"We want to give other mums a story they can relate to that is not a celebrity story where everything is perfect and the house is clean and tidy."
Wednesday Sisters is available online through www.wednesdaysisters.info/