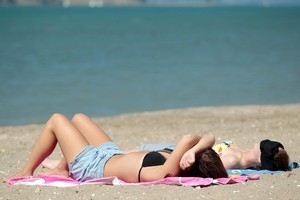 You know summer is approaching when drizzle becomes a regular word in forecasts.
As warm Australian air drifts across the Tasman, the clouds frequently produce drizzle for western New Zealand. Aucklanders, in particular, can be stuck with one gloomy day after another.
Meanwhile, eastern New Zealand is basking in the heat and sun as the nor'westers blow through, void of cloud that couldn't make it up and over the ranges from the west.
The slide to summer is certainly taking its time this year. We haven't even reached the big three-oh temperatures yet, although temperatures have been getting close. Two weeks ago Dunedin hit 27C. But last Saturday, when a winter snap came in - delivering snow right to the heart of Invercargill - Dunedin airport could manage only 9C. Forty-eight hours later and it was 25C at the airport and on Tuesday Gisborne reached 28C - the first time a main centre has reached that mark since Christchurch in March.
Reflecting the wild swings in weather in the deep south earlier this week, Paul Davis said on the WeatherWatch.co.nz Facebook page: "I live an hour south [of Dunedin] and we also hit a decent high today - good enough for an evening stroll at Kaka Point. But boy, has the weather changed in the last two hours - windy, cloudy and more windy."
Not everyone felt a chill in the air last weekend. "Not here in Hawkes Bay we are roasting again 2day and im sunburnt even tho i had lotion on" said Abbie-Jayne Montgomery. It was a similar story a little further south in Wairarapa.
"Once the wind dropped it turned to a great warm day in South Wairarapa - supposed to go down to 5C overnight," said Helen Davies, reflecting the fact that the nights haven't yet warmed up.
Over the next week it looks as though we'll have a high to start with but on Tuesday it will be bulldozed by a westerly blast that will affect most of the country, staying that way until at least next weekend.
Although this is spring, until we start seeing the highs north of New Zealand shift further south don't expect any great change in the overall weather pattern. But those strong westerlies could deliver this season's first 30C temperatures.