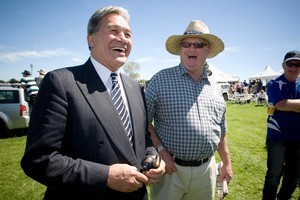 Winston Peters was supposed to be dead and buried, but nobody told him. He looked as suave and as full of life as ever as he worked the crowd at the Dargaville horse racing track. "Oi! There's Winston!" yelled a fan, prompting a loud cheer from several who were enjoying the afternoon sun. People approached with their hands outstretched. Others waved from afar.
Written off by many as having no chance, Mr Peters is not only alive and kicking, he has surged in the polls this week - in the Herald-DigiPoll survey to 3.7 per cent, and in the latest Roy Morgan poll to 4.5 per cent.
This has put him firmly in the race for the 5 per cent of the party votes he needs to return to Parliament after three years in the political wilderness.
Where is this renewed support coming from?
Grey Power Auckland regional director Bill Rayner sees Mr Peters as adding some spine in the MMP world of "cardboard cut-out list MPs full of slogans".
"He's a character with charisma. He crapped in the nest a couple of times but don't we all? He's done a lot for old people and he should be in Parliament."
John Fairley, from Whangarei, said Mr Peters saved the racing industry when he was the minister in charge of it.
"He was the best one we ever had. He got it back on its feet."
The resurgence follows widespread predictions that Mr Peters' attempted comeback would fall flat on its face.
Now observers are muttering that he is like Rasputin rising from the grave, a comment which he dismisses with typical scorn.
"The kind of people that use that comment have an elitist, narrow, shallow approach to society. They're not democrats. They don't believe in freedom. And above all they cannot stand to be questioned intellectually."
As far as he is concerned, he hasn't arisen from anywhere.
The support has always been there, and is only now emerging because he has hit the road.
"We've had a lot of meetings and that message is getting through, despite us being shut out in the media.
"We don't do photo opportunities. We haven't kissed any babies or dived with sharks. [If we did] there'd be no one taking the photo. We just got on with talking to people."
And it was vintage Winston Peters yesterday at the races, and in speeches to the Ellerslie Rotary Club and the Maori Wardens annual conference.
He was the victim of a media shut-out; his demise last election was due to "character assassination"; the country was on the brink of economic Armageddon to which only he had the answer.
On the outlook for New Zealand: "Facing the worst economic times in my lifetime, New Zealand needs not false optimism and grand promises of muddling through with 'aspirations', but a serious reality check."
On what went wrong in 2008: "Five months of character-assassination was designed so that those who wished to run this country without any democratic restraint could gain power."
He said he had a track record that would resonate, and didn't care that other parties had muscled in on traditional New Zealand First territory: no asset sales, one law for all, compulsory superannuation, stricter controls on foreign investment in New Zealand, more help for exports. He saw no inconsistency in railing against race-based policies at the Rotary Club, and then endorsing Maori wardens in the next breath.
"I'm talking about choosing people for preference, based on race. [Maori wardens] is something totally different."
He saw no contradiction in excoriating the emissions trading scheme as a burden on exports, even though in 2008 he voted in favour of the original scheme, which he justified at the time as being better than doing nothing.
And he still has nothing but disdain for the media, which he accused of shutting him out of all election coverage.
"Despite this absolutely disgusting behaviour, when the dust settles on election night, this party willhold the balance of political responsibility."
He would not comment on being asked to participate in the TVNZ minor leaders' debate next week - he hasn't received an invitation yet.
Perhaps his resurgence is simply down to the fact that he is still infinitely likeable in the flesh.
It was a warm reception in Ellerslie, but there was almost wild applause at the conference at the Dargaville Town Hall, where Mr Peters followed Maori Affairs Minister Pita Sharples on to the stage.
Only when you have the audience in the palm of your hand can yoube cheeky enough to tell a Maoriaudience not to vote for the Maori Party.
"I know you've got ancestral and family links to these other parties. I know you agonise over their non-performance," Mr Peters said.
"We are very reasonable.
"You can vote for who you like with your first vote. But it's wise to take out some political insurance [with your party vote]."
Who gets in
NZ First's likely MPs under current polling
1 Winston Peters, list: Party leader. Was minister of Foreign Affairs under the previous Labour-led government.
2 Tracey Martin, Rodney: A member of the Rodney Local Board of Auckland Council, and chairwoman of the board of trustees of Mahurangi College.
3 Andrew Williams, North Shore: Mayor of North Shore City from 2007 to 2010. Made headlines for sending a message to Prime Minister John Key at 3.30am and urinating against a Takapuna tree.
4 Richard Prosser, Waimakariri: A columnist for Investigate magazine, and as an independent in 2007 called for the South Island to consider establishing a separate parliament, before pulling out of the election.
5 Barbara Stewart, Waikato: A former teacher, was a member of parliament from 2002 to 2008 and the party's spokeswoman for Health, Social Services, Family and Industry Training.
6 Brendan Horan, Tauranga: A weather presenter for One News until he took redundancy in 2007 when Jim Hickey returned to the network.

Owen Glenn affair
* In 2005 billionaire Owen Glenn paid $100,000 to Mr Peters' barrister Brian Henry - a donation that New Zealand First did not declare to the Electoral Commission, as required by law.
* Mr Peters repeatedly held up a "NO" sign at a press conference in 2008 to answer questions over whether he knew about the donation.
* Mr Glenn later produced phone records showing a conversation occurred between the two a short time before the donation was made.
* Mr Peters was censured by Parliament's privileges committee which found he had mislead the House.
* Ministry of Foreign Affairs documents revealed that after the donation was made, Mr Peters, then Minister of Foreign Affairs, put forward Mr Glenn's name as New Zealand's honorary consul to Monaco.