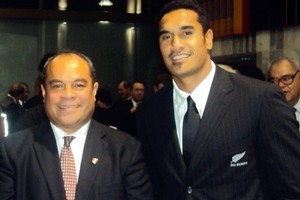 Prime Minister John Key might finally look over his shoulder.
All Black colossus Jerome Kaino, fresh from grimly tracking and destroying everything that moved during the Rugby World Cup, has thrown his weight behind Labour.
Kaino was a notable presence at Monday's launch of Labour's policy for children in Henderson, also attended by his uncle, the Labour MP for Mangere, Su'a William Sio.
The flanker, considered by many to be the All Blacks' star player during the World Cup, is actually Mr Sio's cousin, but because the Labour MP is the matai (chief) of the extended family, Kaino calls him "uncle".
"My Uncle Su'a asked if I would come out and support the Labour Party kids policy launch and I said yes," Kaino told the Weekend Herald.
"I'm not a political person but my family are strong Labour supporters, and I support anything to do with children as I have two beautiful children of my own, and I was happy being there with my partner and our baby."
Mr Sio said Kaino was "a good Pacific Samoan boy who does what he's told when his elders tell him".
"He's part of the family, we're a Labour family. And I just said, 'Look, you're going to do this for me ... Can you come out and help us by signing autographs for the kids?'
"I think you have to appreciate as a Pacific person who has grown up in a predominantly traditional Samoan family, they know they have a lot of respect for us as the elders."
He remembered when his own father - who came to New Zealand in the 1960s - gathered together family members who could vote on a Friday night before an election.
"He said, 'Tomorrow morning, first thing we do is we're going to go down at the local school and we're all going to vote Labour'."
Things were a little more flexible now, Mr Sio said. "At the end of the day it's up to people who they vote for. And I've never bullied anybody into voting for me."