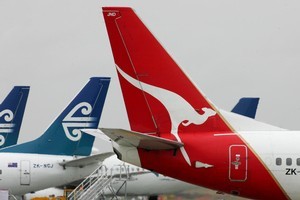 An Australian jobs expo in Auckland this weekend is expected to draw thousands of New Zealanders and entice some to jump the ditch.
Up to 48 Australian organisations have come to the Oz Jobs Expo from industries including hospitality, education, mining, design, construction and health.
Organiser Jason Clayton said the expo website had up to 77,000 hits since it began advertising in October.
"We had an expo in February ... we expected 4000 people to come to it but we got almost 7000 so it was much more than we expected.
"This time it's bigger ... there's a lot of really interesting stuff. Three out of the four big miners are here.
"There's jobs in the health sector, there's several medical recruiters, right through to hospitality staff, engineers. Vocational skills of all backgrounds are what are in demand in Australia."
This week, Labour leader Phil Goff again highlighted the fact that 100,000 New Zealanders had left for Australia under Prime Minister John Key's watch.
Mr Clayton said that for many New Zealanders, Australia was attractive because of cheaper living, more job opportunities and better wages.
"Bar attendants are earning $23 an hour Aussie money. You can get $20 an hour for making Subway sandwiches in Sydney - I'm serious. It's quite remarkable, really."
At the February expo several people scored jobs on the spot.
The Oz Jobs Expo runs today from 10am to 4pm and tomorrow from 10am to 3pm at the ASB Showgrounds in Auckland.
Tickets are $15, and children enter for free.
On the web
www.ozjobexpo.com