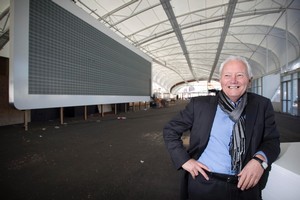 Auckland business leaders want tolls for all transport users - and not just car drivers - to contribute to big road and rail projects.
The Auckland Business Forum says a $2 toll for all trips on the regional's strategic transport network would raise more than $700 million a year, to cover repayments on loans to fill a $10 billion funding deficit.
It says in a submission on the 30-year Auckland Plan that non-road public transport services, meaning rail and possibly ferries, could carry a toll portion in ticket prices.
That would reinforce fairness by spreading the cost of a "ring-fenced" group of high-priority network improvement projects across all transport users, says forum chairman and Auckland Regional Chamber of Commerce chief executive Michael Barnett.
The forum, a federation of eight groups including the chamber, the Northern Employers and Manufacturers' Association, the airport and port companies, the Automobile Association, and the National Road Carriers' Association, has highlighted three main projects.
Its top priority is an east-west highway corridor from Pakuranga to Onehunga likely to cost about $2.5 billion, followed by the $2.4 billion central rail tunnel proposal, both of which it wants completed by 2020.
Included in the corridor project would be a reconfiguration of the $1.5 billion "Ameti" package of roading and busway improvements between Pakuranga and Glen Innes, which is on Auckland Transport's books but not due for completion until 2033.
The forum says a "ladder" road corridor linking Mt Wellington and Onehunga is also long overdue to cater for more daily freight traffic than on any other state highway except Auckland Harbour Bridge.
Next on its list is a new Waitemata Harbour crossing, which it wants completed by 2030 and which Transport Agency consultants estimate will cost $3.9 billion if built as a bridge or $5.3 billion as motorway tunnels.
It says a possible $6 toll to use both a new bridge and the existing one, as suggested by the consultants, would be unfair on daily commuters from the North Shore and a more modest network-wide charge would be fairer.
A central rail tunnel would also make road trips easier for longer periods of the working day - especially for freight. But the Government says a convincing business case has yet to be made for the tunnel.