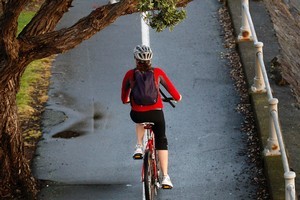 I am writing to ask if the Auckland Council has plans to resurface Dominion Rd from the south-western offramp to the Roskill South shops.
The condition of this road is shocking and as it is one of New Zealand's most used roads with high traffic usage a far better surface is required. As Mt Roskill is in line to pay the biggest rates increase in Auckland next year, some of the cash should be spent on our area. I'm sure if this was Epsom this road would be in tip-top condition.
Allan Boulton, Mt Roskill South.
I managed to find a list of local road improvement projects planned from now until the 2013/14 year. The only mention of Dominion Rd is in connection with a public transport corridor upgrade. But when the peak-time bus lanes are extended to include the Mt Roskill shopping area, some improvements may occur.
I'm curious to know what the law is regarding the direction that seats must be facing in a vehicle while moving. I, like many others, have a van that has rotating seats. Those seats have seatbelts, even when rotated, so I presume they are legal to be used in their rotated position. I haven't been ableto find anything on the internet to thecontrary.
Steve Winnard, Auckland.
According to Transport Agency regulations, all seats in a van used for carrying passengers must be fitted with seatbelts. For seats that can swivel or change direction, the passenger should sit in the direction in which they can use the safety belt properly.
As a regular cyclist, I was getting excited at seeing a dedicated cycleway being built on the left-hand side of Dominion Rd (from just past View Rd) heading towards the city. Finally! However, the path comes to a halt just past the traffic lights leading right to Newton Rd and the upper part of Ian McKinnon Drive. Can you tell me whether the cycleway will continue to be constructed all the way to Upper Queen St? H. Ashton, Auckland.
The traffic lights at Piwakawaka St have a pedestrian phase so cyclists who prefer not to ride on the road up the last steep (and narrow) section of Ian McKinnon Drive to Upper Queen St can dismount, cross the road, and continue up the existing offroad path on the eastern side.
I have seen signs for Monterey Park/Model World on the way to Hobsonville and I was wondering if it was still open, so my mum and I went to see a few weeks ago. The gates were open but we couldn't get in or find anywhere to pay. It just looked all overgrown. I was wondering if you knew if it is closed for winter or closed for good. Bridie Robinson, Auckland.
The website www.montereypark.co.nz says that the centre is now closed. As the site provides no further information, it would seem it is indeed closed for good.