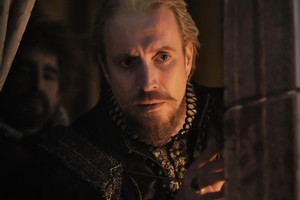 A new film that claims Shakespeare was not the real author of his famous plays has been slammed as "posthumous libel" by a New Zealand Shakespeare academic.
The film Anonymous, recently released in New Zealand, portrays William Shakespeare as a barely literate drunk and ascribes authorship of his plays to the Earl of Oxford Edward de Vere.
Otago University Shakespeare scholar Professor Evelyn Tribble has criticised the premise as "posthumous libel" and likened the theory to the fake moon landing conspiracy.
She has also expressed concern the film's "uncontextualised facts, twisted half-truths and outright misrepresentations" could leach into the classroom.
Dr Tribble said the central assumption behind the authorship conspiracy was that a man of Shakespeare's lowly background could not possibly have written the plays.
But she said his background was very similar to other gifted young playwrights of the period.
Shakespeare benefited from the Tudor grammar school system which gave middle class sons a thorough classical education with an emphasis on Latin poetry and drama.
"There is no reasonable doubt that the actor-playwright William Shakespeare of Stratford wrote the plays ascribed to him," she said.
"The simple fact is that in the tight-knit gossipy community of theatrical professionals, Shakespeare's authorship was absolutely undisputed. I guess the truth is much more mundane than some people would like it to be."
Critics have claimed that because of his background, Shakespeare could not have known about the court, noble households or foreign lands described in his plays.
But Dr Tribble said the playwright was an avid reader and pointed out that the Italian settings of many of his plays were only superficially realised.
Theories questioning Shakespeare's authorship were full of inconsistencies and implausibilities, she said, including the fact that the Earl of Oxford died in 1604 - prior to the composition of many of the plays.
German director Roland Emmerich, better known for blockbuster films like Independence Day and 2012, said he was prepared for people to dismiss the film.
"They will say it's all crap and I will defend myself as eloquently as I can," he told the BBC.
"I'm no professor, but I cannot believe that somebody who had nearly no education could write like this."
He made the film because he was fascinated that "the biggest name in literature could have been a fraud".
Emmerich said art should provoke discussion and be scandalous.
His film has certainly provoked discussion, with a New York Times reviewer describing it as "a travesty of British history and a brutal insult to the human imagination".
Apart from that, however, the reviewer said the film was "not bad".

- APNZ