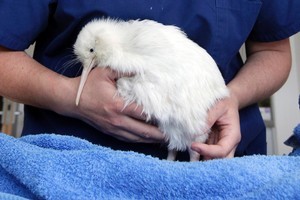 Manukura the white kiwi will tomorrow bid farewell to the big smoke, and Wellington Zoo veterinarian Lisa Argilla is more than happy to see her go.
The six-month-old is technically a brown kiwi but she is leucistic, which means she is missing the gene that would make her feathers brown.
And now, after three weeks of being poked and prodded by vets at Wellington Zoo, she's also missing the nice gene.
Manukura was born at the Pukaha Mount Bruce National Wildlife Centre and it was there rangers noticed she wasn't eating.
She was taken to Wellington Zoo, where an x-ray found she had swallowed two stones, one of which passed naturally, while the other had to be zapped with a laser before it was removed through her beak.
Dr Argilla said Manukura had become more and more stroppy as her health improved.
"That's what kiwis are like," she said. "Kiwis are stroppy. You can't get attached to them - they're not like a parrot."
A short photo shoot with the Herald left Dr Argilla with scratched arms from the reluctant star, who she's hoping to pack off home to Pukaha Mount Bruce tomorrow.
"It will be good if she can go home and live a nice life without being poked all the time," she said.
- APNZ