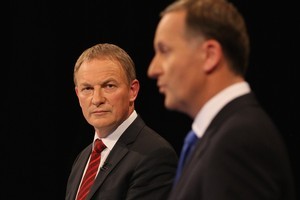 Phil Goff insisted he was playing the ball and not the man, and then promptly did the opposite.
Labour has tried ignoring John Key. It has tried to embarrass him. In these efforts Labour has often ended up embarrassing only itself.
Like it or lump it, however, Labour knows it must make a serious dent in Key's credibility if it is to have any chance of winning this election.
Labour has to take the fight to Key. Key is so far ahead he has no reason to take it to Labour.
So begins Stage Two of Labour's campaign. Having unveiled most of its policy shocks and blockbusters - raising the retirement age, compulsory super, a capital gains tax and its landmark children's policy - Labour yesterday fired the first salvo of a scheduled weeklong barrage against the Prime Minister's credibility.
In particular, Labour wants to destroy the notion held by some voters that Key's success as a money trader and banker automatically translates into success in running the country.
Goff was at pains to stress the offensive was not about John Key the person - someone Goff was sure had the best intentions for New Zealand.
However, he argued, the Prime Minister ought to be judged on his record.
Goff then issued a list of 10 economy-related indicators to show New Zealand had gone backwards since Key took office.
Goff said it was hard to be "smug" about the figures - which covered unemployment, inflation, the number of people shifting to Australia, economic growth, the transtasman wage gap and so forth.
Was Goff accusing Key of being smug? Of course not. Was he accusing the Prime Minister of being glib? Of course not.
But Labour is confident more and more voters will see Key in that vein.
The trouble with Goff's list of "facts" is that it conveniently ignores the fact that the economy was nosediving towards recession as Labour was leaving office in 2008.
Still, National is trying not to buy into the argument - in marked contrast with its relentless pressuring of Labour last week to come up with dollar costings for its promises.
That suggests National knows it is vulnerable on some indicators.
It does not want to give Goff oxygen.
But Goff faces an uphill struggle. National's high polling reflects voter satisfaction that the Government has handled whatever crisis has befallen it with a fair degree of competence.
Goff has no choice but to challenge that perception.
But it is the equivalent of chipping away at a block of granite.
Voters may have short memories. But they are not that short.
SIDELIGHTS
Thanks Russel, we get the message: The Greens' quest for credibility in the economic mainstream knows no bounds. Co-leader Russel Norman yesterday approved of the Reserve Bank's intention to implement higher prudential requirements for the banking sector as set out by the Basel III global regulatory standards. It's all a long way away from the party's days of morris-dancing.
Grape expectations: Phil Goff scored a bottle of wine from the Rail and Maritime Union yesterday for addressing its conference. Fitting perhaps. His speech went down with the ease of a very smooth red.
They said it: "He wants to sell them for a one-off sugar hit to please the foreign banks." - Labour's Phil Goff on John Key's plan to partially privatise some state-owned enterprises.