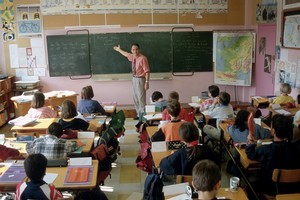 Calm - relaxed for individual work or quiet time A boost to students' concentration levels is hoped for during a trial of a classroom lighting system which lets a teacher set the mood for learning at different times of the day.
Philips Lighting said yesterday it was installing its SchoolVision lighting system in a new building at Avondale College as a trial with the Education Ministry.
Overseas, its lighting had been shown to have a significant effect on mood, energy levels and ability to concentrate. Different tasks required different levels of energy and concentration.
The system allowed a teacher with a touchpad to select from four settings - normal, energy, focus and calm.
This produced lights of different colour and intensity to create the atmosphere for a particular task at the time of day - for example, at the start of day or after the lunch break.
The company's senior vice-president emerging markets, Olivier Piccolin, said overseas studies showed promising results.
A year-long study of the system on 166 pupils of a primary school in Hamburg found reading speed rose by almost 35 per cent, concentration improved and the frequency of errors fell 45 per cent.
Hyperactivity was cut by up to 76 per cent when pupils were given a maths problem to solve under the "calm" lighting.
A year ago, the system was installed in science classrooms at the Epsom and Ewell High School in England.
A pilot study conducted by City University London said students and teachers commented how the lighting change positively affected the mood in the classroom.
Philips said most schools had standard lighting systems with a fixed colour temperature and its system adjusted the light mix to vary brightness and colour mood. Its seamless changes in lighting patterns simulated natural daylight.
The Education Ministry's website says evidence suggests learning outcomes improve in spaces that have daylight as the main source of lighting.
LIGHT SETTINGS TO LEARN BY
Normal - regular classroom activities
Energy - early morning or after lunch
Focus - concentrate on challenging tasks