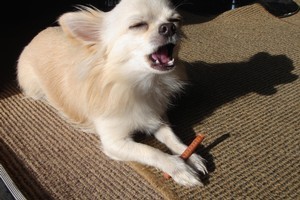 An Auckland man brought his tiny chihuahua Peanut back to life after giving him mouth-to-mouth.
The 42-year-old Pakuranga man said he would have done anything to save his "hilarious" beloved 1-year-old dog, who stopped breathing on Friday.
Peanut has been prone to seizures ever since he was dropped on his head when he was two days old. But the little dog had not had a fit for more than six months before Friday.
The man, who did not want to be named, took Peanut to his friend's house that evening when the little dog cocked his leg to urinate on the dining table.
"My mate's normal reaction was to smack him on his head, then he went into a seizure straight away."
The man picked up the 1.8kg dog and held him in his arms as he normally did during one of his seizures, but this time the dog didn't come out of it and the man said he "just started freaking out".
"For a split-second I realised his heart wasn't beating so I needed to get some air into him. So I started blowing down his mouth from about a centimetre away, but I thought to myself, 'What are you ****ing doing, mate? That's not going to do anything.'
"So then it was just 'boom' - I put my lips straight on, but I had to be careful not to blow his little insides out."
The chihuahua's eyes began to shut completely and he started to go limp.
Then the man thought back to his boyhood CPR training as a Cub and he realised he had to tilt Peanut's head back and clear his throat.
"So I opened his mouth and I flicked his tongue out because his tongue had actually fallen back in his throat. I flicked it out and I heard a sound like a valve releasing - but he still had his eyes shut."
The man resumed giving mouth-to-mouth and started massaging Peanut's stomach before finally he started coming back to life.
"His eyes started to open and it was quite incredible - it seemed like it had been 20 minutes, but it had probably only been about three."
He then took the dog to Great South Vets in Papatoetoe, where Peanut stayed overnight for observation. It took Peanut until Sunday night to recover and return to being his "crazy" self.
The man said he didn't even think twice about locking mouths with his pet and blowing air into his lungs.
"You think about it afterwards. I love this dog, you know? And I'd do anything to save his life.
"What do you do? It's in your arms and you know it's dying - it's just instinct," he said.
"If someone was dying, it's just so natural to do it. If your loved one was dying in front of you, you'd give them CPR ... There was nothing I could really do but that."