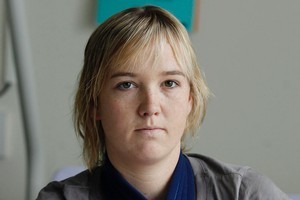 A young mother "swallowed up" by a rotten deck when part of it caved in on Saturday night remains in hospital as doctors investigate why she cannot move the fingers on her left hand.
Tess Plunkett's 21st birthday celebrations turned sour after one end of the ageing deck detached itself from the second storey of the house in Saxbys Rd, Hamilton, and six of the 15 partygoers tumbled on to one another on the ground below.
Four friends were taken to hospital by two ambulances with sore and bruised bones and friend Tara Holland, who did not go to hospital because of the long wait, was having an x-ray of her spine and ribs yesterday afternoon.
Another mate, Rangi Murray, was leaning on the rail of the deck and has two sprained ankles from falling outwards and on to his feet.
Tania Wightman, who is three months pregnant, was also visiting a midwife to make sure her baby is unharmed.
Miss Plunkett told the Herald from her hospital bed that she was still very sore and was having an x-ray and MRI scan yesterday afternoon.
"I don't know whether it is to do with my arm muscles or not but I can't make my fingers move. My arm is very sore."
The Wintec business, administration and computing student also has bruising on her arm and back.
All she could remember was being "swallowed up" by the deck as it folded in towards the house, and then waking up in the ambulance.
But her flatmate Majinta Fenwick was standing in the ranchslider doorway with her back to the deck when she head a loud bang. "I just saw everybody sliding down on top of each other. It happened quite fast."
She said there were screams and she and the four people standing at the end of the deck which had not fallen rushed to help.
Miss Plunkett had been living at the rental property with her 2-year-old son, Hunter, for almost a year.
"I'm just angry, the owner ... should have fixed it and they knew there was a baby living there with me."
She and Miss Fenwick, who moved in with her daughter, Saskia, 1, a few months ago, said they had told the property managers several times the deck was coming away from the wall.
The two mothers are now planning to move out because of fears other things in the house may be unsafe. Miss Plunkett said she kept thinking how much worse it would have been if her son had been on the deck rather than staying the night at his grandmother's house.
Hamilton City Council building unit manager Phil Saunders said council staff inspected the deck yesterday.
It was about 40 years old and staff believed it would have complied with the standards then but needed to be demolished now because it was unsafe.
The deck has been taped off and the council is issuing the landlord with a dangerous building notice.