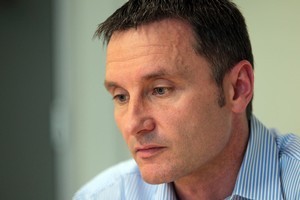 Former Hamilton City Council chief executive Michael Redman could face legal action, a report by the council's new boss suggests.
The report, released yesterday by the council's new chief executive, Barry Harris, indicates the council has legal grounds to further investigate whether Mr Redman can be held liable for his role in the V8 Supercars street race series.
Audit New Zealand's investigation found Mr Redman spent millions of dollars without the council's knowledge or approval which may have breached his statutory obligations.
In the new report, the council's lawyers say the council may have a case if it can prove through its own investigations that a breach occurred which resulted in the council losing money.
Mr Redman resigned from the city council in October last year to lead Auckland's Tourism Event and Economic Development unit.
But he resigned from that position last month after Audit NZ's criticism of his role in the V8 event.
The chief executive's report also addresses the council's flawed processes highlighted in the audit by introducing robust business cases, giving more objective and assertive advice and ensuring councillors are given early warning of significant council work.
The recommendations follow Local Government Minister Rodney Hide's chastising the councillors for "poor decision-making and appalling governance" which led to the council spending almost $40 million hosting the V8 Supercars event.
The council's new boss has put forward 27 actions to respond to recommendations by Audit NZ which will be discussed by the council tomorrow.
Mr Harris said staff also had to take a "collective responsibility" for shortfalls in the council's reporting processes to ensure good decision-making.
He planned to tackle a lack of assertiveness from management on objectivity, clarity and compliance with council decisions through individual performance reviews.
Individual staff would also be made accountable, he said.
He has also promised to bring in better contract management procedures, reinforce staff understanding of risk management and endorse open and clear communication.
In a direct response to criticism about the V8 project being left out of the council's audit process, he said all major projects would be reviewed periodically as part of its internal audit work.
There were fewer recommendations for councillors, because Mr Harris believed they had largely addressed governance issues.
In the past few months the mayor has introduced a new committee structure, delegations policy, risk management policy and new reporting framework.
Councillors have also been given governance training.
But Mr Hide is not letting councillors off the hook so easily.
He ordered the council to work with mayor Julie Hardaker to get the council back on track following the"serious" report from Audit NZ.
Yesterday, he met Ms Hardaker, councillor Martin Gallagher and Mr Harris.
He said he and the new local government minister were expecting urgent action and regular updates into how the council was addressing Audit NZ's recommendations on governance.
Mr Hide said he had been impressed with what the council had been doing to improve reporting.
The new leadership had played a large part in his decision not to sack the entire council.
He also supported the council looking at taking legal action.
"Hamilton ratepayers deserve to have this matter fixed, so that we never see this type of failure again," Mr Hide said.
The mayor will fly back from Wellington today to discuss the council response.
Changes
* Robust business cases.
* More objective and assertive advice.
* Councillors to get early warning of significant work.
* Clearer and more transparent communication.