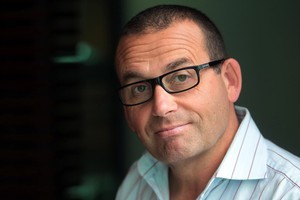 Controversial broadcaster Paul Henry is confident Australian viewers will "love" him.
The former Breakfast anchor announced at the weekend that he had been wooed by Australia's Network Ten to host its breakfast show from March next year.
He confirmed he would receive a pay packet worth more than $1 million for his new role at the network.
However Australians are less than excited about a New Zealander fronting the new show.
Mr Henry told RadioLive this morning the Ten role was an "unbelievable opportunity".
"It is quite exciting. It doesn't start until next year and there is plenty to do between now and then, but it is very exciting."
He is confident he will be well received by viewers.
"I think the trick is not to pretend anything at all. I'll just go over and be me," he said.
"They'll love me."
Mr Henry is not intending to hold himself back, despite a tendency in the past to offend some viewers with off the cuff remarks.
"I think I'll just come out and be me. Obviously they are in semi-political uproar over there, so I think there will opportunity to be all guns blazing at times, from very early on."
In the release from Ten, Henry said, "The fit between me and Ten is absolutely perfect, and I know Australia is ready for the kind of breakfast show we have in mind."
But some of his potential Australian audience of 12 million were not as happy as Henry.
Thirty-three per cent of readers who participated in the Sydney Morning Herald's poll, 'What do you think of the choice to invite Paul Henry to breakfast on Ten in 2012', chose "Henry failed in New Zealand, why bring him here?".
And 23 per cent said they would wait and see, "except that I'm not going to watch anyway".
However, 32 per cent said Ten's decision was "great, a fresh, honest take on events".
That Henry was a New Zealander seemed to be one of the biggest complaints.
One reader said his accent was "like fingernails on a blackboard". Another called Henry's voice a turn-off and said his manner was "pathetic".
Another commented, "Perhaps he could get his teeth looking less offensive before the first show?"
Henry will stop his drive time show for RadioLive in March and become the station's Australian correspondent.
He will continue to work for TV3 with a new 7pm Sunday show to be filmed in Sydney, where he will be living.