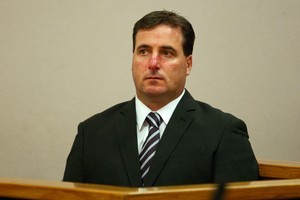 A police sergeant charged with assaulting five prisoners in custody has been suspended from duty for almost two years - and may have been paid more than $130,000 while he awaits his fate.
Henderson-based Sergeant Martin Folan, 47, was acquitted of five charges of assaulting prisoners after a trial in June this year. The alleged assaults spanned from October 2009 to February 2010.
Mr Folan, a father and grandfather, was stood down pending the investigation and trial on February 10, 2010.
Following his acquittal in April, Waitemata police launched an internal disciplinary probe which is ongoing and Mr Folan remains suspended.
A senior police source said a sergeant was likely to be paid between $70,000 and $80,000 a year. Based on those figures, Mr Folan could have been paid between $116,660 and $133,320 for the 20 months he has been stood down.
Officers may also get extra allowances for their specific skills and qualifications - for example, Armed Offenders Squad members earn more for the additional work and training they do.
Officers' salaries can also differ depending on their level of experience. Mr Folan, from Glasgow, moved to New Zealand in 1996 and has been a police officer here for 14 years.
Police management began an investigation after colleagues approached them, concerned about Mr Folan's behaviour on duty.
In one of the alleged assaults a man was so badly injured he had to have a testicle surgically removed.
At the trial the Crown alleged Mr Folan had acted in anger when he elbowed a teenager in the face, banged a man's head on the concrete floor of the police station, kicked a man in the groin and throttled another.
Mr Folan's defence was that the incidents never happened - or were accidents.
The court heard from 27 witnesses, at least five said they saw Mr Folan assault prisoners. But after a six-hour deliberation, a jury found Mr Folan not guilty on all charges.
It is understood Mr Folan wants to continue working as a police officer. However, some of his senior colleagues do not believe he should return to the frontline - or the force.
Police national headquarters confirmed this week that Mr Folan was still suspended and that the investigation is ongoing.
A senior officer said he was surprised the investigation was still ongoing, saying it was taking "a heck of a long time".
Mr Folan's lawyer, Richard Earwaker, said it was good employment practice and "the norm" for suspended staff to continue receiving salary payments pending the outcome of investigations.
He said it would be inappropriate to comment until the investigation was complete.
However, he said after the trial that the internal investigation into Mr Folan may take up to six months.
He said Mr Folan's work life was "on hold" and he could not comment about it while the investigation was ongoing.
"As you can appreciate, since he was stood down, there has been a tremendous strain on him. It has been incredibly stressful," Mr Earwaker said.
An Independent Police Conduct Authority investigation into Mr Folan was also ongoing.
Earlier this year IPCA chairwoman Justice Lowell Goddard said the criminal charges were "just one aspect" of the investigation.