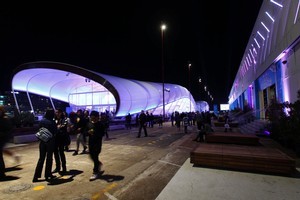 The Cloud is staying put on Queens Wharf until at least the middle of next year, and is already taking bookings for a wide array of events.
A Waterfront Auckland spokesperson said there had been a number of booking enquiries for the Cloud from businesses and other groups to use it as an event space.
Waterfront Auckland this week confirmed a story first reported by the Herald on Sunday on October 16 that the Cloud would remain at the party central until the middle of next year when a long-term decision would be made on its future.
"This will give the public and visitors a chance to experience the Cloud and the wharf post Rugby World Cup celebration and used in a variety of different ways," the spokesperson said.
"In the interim, Queens Wharf will still remain very much a public space, with the facilities such as the Cloud and Shed 10 being hired out from time to time."
The roof of the Cloud is made of opaque PVC fabric, which has an expected life of up to 15 years. To keep the building longer, the cladding would need to be replaced.
Waterfront Auckland and Auckland Council were putting a management structure in place to manage the wharf for the next six to seven months.
In two weeks, Queens Wharf will host the Barfoot and Thompson ITU Triathlon World Cup, with 1240 competitors taking part.
Chief executive of Tri Auckland World Champs Dave Beeche said the wharf would be the hub for the triathlon with the Cloud being used for the opening ceremony and competitor registrations, with an information desk.
Beeche said the area was a "perfect location in the heart of the city, great place to swim, great facilities with the Cloud and Shed 10".
The Sustainable Business Network Sustainable City Showcase is on at Shed 10 on Wednesday and Thursday this week. Queens Wharf will also be used as a cruise ship berth with the Pacific Dawn arriving on November 29, four others in December and more ships in the New Year.
From tomorrow Queens Wharf will be a public space open daily from 7am.