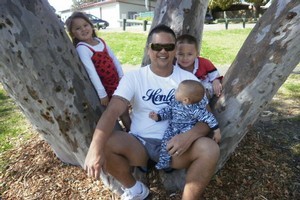 Matthew Taurima is a Kiwi stuck in Australia. The 31-year-old has been there for 12 years and wants to return to New Zealand to raise his three young children - but he is scared of living in a nation with high unemployment rates, over-inflated house prices and soaring costs of living.
Taurima is one of 26,000 people who permanently moved to Australia in the 1998 financial year. Last year that exodus almost doubled to 45,000 - a net loss of 29,915 Kiwis. According to Statistics NZ, nearly 483,000 people have moved to Australia since 1998, joining a diaspora of an estimated one million-plus Aussie-Kiwis.
During this week's TVNZ leadership debate, Te Karere executive producer Shane Taurima confronted John Key and Phil Goff about the plight of Kiwis in Australia like his brother Mathew: "How will you help my brother come back - or will he be better staying?"
Key responded that Sydney was a far more expensive place to live than any city in New Zealand; Goff said the number of Kiwis in Australia was far too high, but offered no solutions.
In the past, many Kiwis chose to live in Australia for the higher wages and sunny beaches; but now many say they are forced to live there because they can't afford New Zealand's low wages and high cost of living.
This week's Human Development Report, launched by our own Helen Clark as administrator of the United Nations Development Program, singled out New Zealand for criticism because of a widening gap between rich and poor.
The Government has come under attack from all sides. On the left, Goff said New Zealand needed to create better-paying jobs and a generous Super scheme to entice them home. "My daughter is living in London at the moment and both my sons have thought about moving to Australia because they are tradesmen and their pay would be much better there," he told the Herald on Sunday. "I really don't want my grandkids growing up somewhere else."
On the right, Act's youth affairs spokesman Stephen Whittington warned politicians were forcing young people overseas by saddling them with debt, low incomes, and unaffordable housing.
The Education Ministry's civic and citizenship education study showed 27 per cent of year 9 students wanted to live permanently in another country.
While the flow through the departures gates has sped up in the past three years under National, it started while Key was still in short pants. As far back as the 1970s, the Australians were asking the last person leaving New Zealand to turn out the lights.
Shane Taurima said both Key and Goff had given scripted responses, failing to offer any confidence to those wanting to return home. "They didn't address the issue at all," he said. "There was no assurance that there will be more jobs created."
Mathew Taurima said he desperately wanted his children - aged 7, 5 and 18 months - to grow up surrounded by their Maori culture and whanau. "I'm a Kiwi and it's like having a tree in a pot plant, it will keep growing but, until it's put in the ground where it's meant to be, it won't flourish and blossom. That is the same as my children.
"The politicians need to get their butts into gear and start thinking about business. Our most highly skilled workers are around the world and we need to bring them back home."