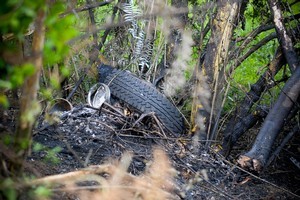 A crashed car exploded into an "intense" inferno that left the body inside almost unrecognisable this weekend.
A South Auckland man died after his car went over a steep bank, igniting a blaze that set the surrounding hillside alight. There had been a number of crashes on the same stretch of road, a resident said.
Greg Harrison got a knock on the door from a neighbour who had seen the crash, and the two were first on the scene. To his dismay, he later discovered he knew who the dead man was, though police will require dental or DNA testing to confirm the man's identity.
He said the South Auckland man had just left a dinner party near Hunua and was driving to visit another friend, when he crashed off Ararimu Rd, near State Highway 1, at 10pm. The force of the crash knocked over a power pole and set it alight. The former fire and ambulance worker took his fire extinguisher to the scene but was unable to help.
Harrison heard explosions as he arrived at the scene, and was forced back to wait for police and fire services.
"We sort of got beaten back by the flames."
When he first arrived, he didn't know who the victim was. "The biggest thing is you just don't know who it is, if it is one of your neighbours."
Emergency services arrived to find the vehicle ablaze and the surrounding scrub on fire. Senior Sergeant Duncan Hall of Counties Manukau police said firefighters extinguished the blaze before the sole occupant was found dead.
By yesterday morning, Harrison said, the local community knew who the man was.