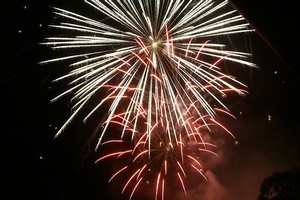 Guy Fawkes excitement and mayhem were in full sway last night. Two children were taken by ambulance to Starship Hospital with burns and another boy needed treatment at an outdoor Guy Fawkes event.
A 4-year-old boy suffered burns to his back at the Morrinsville Fire Extravaganza in the Waikato and was treated by St John staff at the scene.
In Auckland, a 9-year old boy was burned during a fireworks display at a home in Mt Roskill. He was taken to Starship Hospital with minor injuries to his neck and back.
Another boy, aged 7, suffered burns at a private function in Mt Roskill and was also taken to Starship Hospital for treatment.
In Northland, a 12-year-old boy was treated for eye injuries. He was taken by ambulance to Whangarei Hospital around midnight.
In Tauranga, a fireworks display at Bay Park was cancelled out of consideration for birds rescued from the Rena oil spill.
In Te Atatu, MP Tau Henare tweeted that frenetic fireworks displays made the quiet West Auckland suburb "sound like dowtown Kabul". Fireworks confused for flares were also wasting the Coastguard's time, according to acting duty officer Niki Latham.
She said all calls from the public were investigated, though authentic flares could be easily distinguished. "If someone sees the 'flare' go up, it's not a flare." Flares were visible when they descended and were red or white.