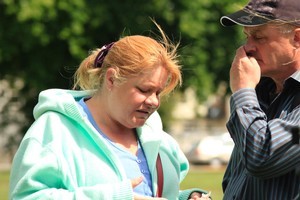 Liz and Charlie Dawson will never forget their 33rd wedding anniversary - they spent part of it on the first bus tour of Christchurch's central city red-zone.
The Woodend couple were on the first public bus tour of the central city after it was cordoned off following the February 22 earthquake.
The tours, which started yesterday, were organised by the Canterbury Earthquake Recovery Authority (Cera) after calls from the public to be allowed into the central city.
Liz Dawson, 56, said she had wanted to go on the tour to pay her respects to those who had died in the central city that fateful day.
Charlie Dawson, 57, was a Land Search and Rescue worker involved in the relief effort in the hill suburbs on the day following the quake.
After the tour she came off the bus visibly moved, holding a tissue and with tears in her eyes. She said it was "sad" seeing the devastation the quake had caused, with all the empty sites where buildings used to be.
On the other hand, Charlie Dawson, a technical engineer for Air New Zealand, said it gave him "peace of mind" and felt it would offer closure for many.
Passengers on the first bus were accompanied by Cera chief executive Roger Sutton, who said many were relieved to finally be back in the central city.
"There was a range of emotions but mostly people were happy to finally see their city with their own eyes, so I'm glad we have been able to get these trips underway."
Elaine Thurlow, 63, who was also on the first tour, said she was overwhelmed by the extent of the damage.
"It was far more devastating than I thought. It made me realise why we weren't allowed in there early on. I could see why they were keeping everybody out."
She said others on the bus also appeared "overwhelmed" by the destruction in the city.
People spoken to by the Herald on Sunday gave various reasons for wanting to go on the tour from wanting to see for themselves the impact of the quake to wanting to pay homage to those who died.
Ashleigh Reeves, 17, said she wanted to pay her respects at the CTV site as she knew someone who died in the building. Her mother Karyn Reeves, 39, said she had wanted to see what buildings remained.
The tours will run every Saturday and Sunday over six weekends and so far 7315 people have booked. Twilight trips will start on Monday, November 14.
People are asked to make a gold coin donation to cover costs.