He was inebriated when he hit her and he didn't stop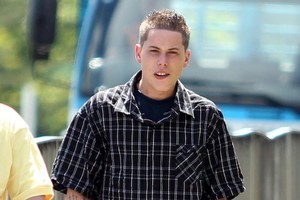 Family of a girl almost killed in a hit-and-run are relieved the driver has been jailed, despite the story he and his passenger concocted to cover up his crime.
Ashleigh Scott was taken to hospital in a critical state after she was flung into the air and landed on her head.
She had been standing outside a party in the East Auckland suburb of Bucklands Beach about 11.20pm on February 18 when the drunk, disqualified and speeding driver veered across the road and hit her before fleeing the scene.
Her father, Mike, said his daughter was relieved Rhys Paterson had been imprisoned for almost two years.
"Ashleigh is pleased. She just wanted him to have some time off the streets," he said.
His daughter had been in an induced coma and needed months of rehabilitition for her injuries. She would have to undergo surgery for scars but was trying to get on with her life.
Her father said she was hoping to learn to drive and enrol in study to regain some independence the crash had taken from her since February.
"She knows she is very lucky to be alive. It has been hard on the whole family. I am still very angry at the driver and we had been asked to meet him at a restorative justice conference but we couldn't. Ashleigh felt she could not have handled the confrontation," he said.
Paterson, 18, was sentenced to one year and 10 months' for conspiring to pervert the course of justice, failing to stop at the scene of an injury-causing accident, causing bodily harm by driving carelessly while under the influence of drugs or alcohol, and driving while disqualified at the Manukau District Court this week.
His passenger, Lauren Pennell, 18, of Howick, had been earlier sentenced to 100 hours' community work and disqualified for six months for giving a false statement to police and aiding Paterson to drive while disqualified.
Judge Anna Johns said Paterson had "nearly killed Miss Scott".
He'd been drinking at a party where his friends had told him not to drive. He left the party with Pennell in her mother's car.
Initially, Pennell drove the car before Paterson asked her to pull over and let him drive.
Paterson was driving along Bucklands Beach Rd doing 60km/h in a 50km/h zone when he hit Ashleigh and accelerated away.
He was already a disqualified driver, having been twice convicted of drink-driving last year.
He drove to a friend's house where the pair agreed to say Pennell was the sole driver of the car. She was later questioned by police and passed an alcohol test.
The next day, after hearing in the media that Ashleigh was in a critical condition, he handed himself in to police.
Her mother told the court in a victim impact statement the sight of her daughter in hospital would stay with her for the rest of her life.
Paterson's family declined to comment outside court.