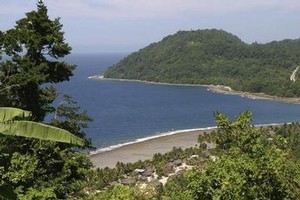 Witnesses to a fiery air crash in Papua New Guinea in which 28 people died but a Kiwi pilot walked away with bruises reported a loud bang as the engines over-revved.
The country's Aircraft Investigation Commission yesterday issued a graphic preliminary report - although without any conclusive findings - into the crash of an Airlines PNG Bombardier Dash-8 on October 13. Co-pilot Campbell Wagstaff, whose parents live in Te Kuiti, survived the fiery crash with only three others.
The aircraft left a trail of wreckage 300m long, but evidence from marks on the trees and the ground indicated to the investigators that it force-landed in "a controlled state in a shallow angle of descent".
Both the cockpit voice recorder and flight data recorder were recovered undamaged and taken to Canberra for analysis.