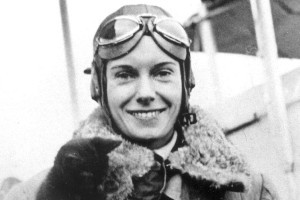 A rare trophy awarded to Jean Batten in the 1930s has vanished from Motat just days before it was due on display.
The trophy - the Blind Flying Challenge Cup - was in storage in a building at Motat, in Auckland's Western Springs, and was supposed to be part of a new collection due to be officially opened on Monday.
But as staff prepared for the opening it was discovered the trophy - worth thousands of dollars - was gone.
After being approached by the Weekend Herald, Motat chief executive Jeremy Hubbard confirmed the trophy wasn't in its "last recorded location".
It was bought for about $6000 five years ago.
Mr Hubbard said an investigation had begun but he didn't believe there was anything sinister in its disappearance.
"We have practices [to record where things go] but in this case it was moved and the records haven't been updated."
He was not sure why procedure wasn't followed in this case, or how long the trophy might have been gone for.
There was no sign of forced entry in the building it was being housed in and no reason to suspect it had been taken off the premises.
Staff were dedicated people with many volunteers who cared about their work and the items in their care, he said.
Mr Hubbard said finding the trophy was a "big task" and would not be a "five-minute exercise". The museum consisted of 50 buildings spread over 16ha with about 300,000 items. Police hadn't been called because he was confident it would turn up.
However, the vanishing act has concerned some staff at the museum who believe it is being covered up.
An email obtained by the Weekend Herald from Exhibition Content Co-ordinator Cyrus Kiss, accused managers of trying to hide the matter when he sought answers.
In an email to Mr Hubbard and Motat chairman Paul Bayly, Mr Kiss wrote he was "led to believe that the cup was not ready" before the new Aviation Display Hall was opened and was told later it was "still not available for display".
The email said he had since been told in confidence the object was "missing, believed stolen and that management had instructed staff to maintain silence about it".
Asked if staff had been kept fully briefed Mr Hubbard said those who needed to know where aware of the situation.
Mr Kiss declined to comment.
Motat has been troubled in recent times and is the focus of a Serious Fraud Office (SFO) probe. A spokeswoman said the SFO was not in a position to comment about any matter relating to Motat.
The Challenge Cup was the first international trophy awarded to Jean Batten, which she went on to receive three times.