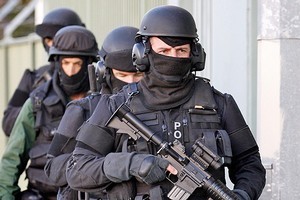 A father who had a pretend gunfight with his three-year-old daughter at their suburban Auckland home sparked an armed offenders squad callout when a neighbour called police.
Chris Graham's neighbour has since apologised, saying she "misread" the situation.
Graham walked out of Waitakere District Court today with a conviction and discharge over the incident on January 4 this year.
The court was told Graham, his pregnant wife and their three-year-old daughter Brooklyn were stopped at a police roadblock while on their way to dinner about an hour after the game at their west Auckland home.
Graham was initially charged with unlawfully carrying an imitation firearm but the charge was downgraded to disorderly behaviour when he appeared in court today.
The father of two pleaded guilty to the reduced charge and walked free.
The court was told Graham had been a bit agitated when he got home because someone threw a bottle at his van on the North-Western motorway and smashed a window.
Graham's lawyer Roger Chambers said his client had "a song and dance about it" when he got home but then began playing with Brooklyn. He was holding a broken paintball gun while Brooklyn had a water pistol.
But a concerned neighbour saw Graham with the gun and phoned police.
"The whole thing was a misrepresentation by the neighbour who has since apologised and said she misread the situation," Mr Chambers said.
Judge John Adams said he accepted Graham was agitated when he got home and that there was a "basis" for the neighbour's concern.
"As it turns out there was never any danger to anybody."
He convicted and discharged Graham.
Outside court Graham said he was relieved that the case was over. He said he was glad he did not plead to the original charge because he has plans to travel to the US one day and a firearms charge could have caused problems.
"I'm just glad to get back on track and focus on work, work hard for the kids."
Graham said that in hindsight, police should never have laid charges but he did not hold a grudge.
"I respect them. I have no problem with the police at all. That's their job."
The pool-cover installer said he was now saving to buy a house.
Since being pulled over by armed police, his wife Sheridyn Rawlins has given birth to Bentley who is now five months old.
But Brooklyn, who turns 5 in May, still clearly remembers the time when armed police sealed her street off.
"I want my daughter to know that the police are there to help but every time she sees a police officer she asks: 'Dad, has he got a gun?"
Waitakere police Inspector Rod Fraser said police had to treat any reports of people with firearms as serious.
"Until we know otherwise, then we always treat them seriously and it may on occasion result in the Armed Offenders Squad or armed police being deployed."
- APNZ