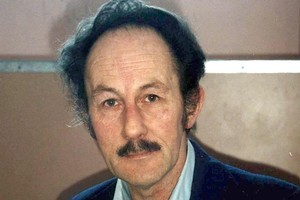 A leading lawyer has urged the public to show warmth and humanity to the man dubbed the 'Beast of Blenheim' when he is released next September after 16 years in prison.
Stewart Murray Wilson, 64, was jailed in 1996 for offences against women and children, including rape, indecent assault, stupefying, wilful ill-treatment of a child and bestiality.
Peter Williams QC, the former president of the Howard League for Penal Reform, said Wilson was not beyond redemption and needed the community's help if he was to have any chance of rehabilitation.
He should be surrounded by people who would "show him a bit of warmth and humanity" so he could move on with his life in a healthy way, said Mr Williams.
"The first priority is the protection of the public but having said that, legally he has to be released because he's served his sentence and every effort should be made now to rehabilitate him," he said.
Wilson became eligible for parole in December 2008 but the Parole Board ordered he stay in prison until his final release date of September 1, 2012, saying he was likely to reoffend if released.
In a report to the board, Wilson was recorded as saying "I don't give a stuff about it", when asked if he would adhere to a condition that he have no contact with children under 16 upon his release.
The board yesterday released its latest review findings, saying Wilson was at a high risk of reoffending and should remain in jail.
But Mr Williams said that by next September, Wilson would have served his time and he would need the community's support to prevent him from reoffending.
"I think the concerned people should really battle for the mind of this person - to help him get a mental attitude that's healthy. We're not determined enough to help these people get on a straight path."
Wilson has not completed any programmes to stop sexual abuse while in prison.
But Mr Williams said that in spite of requesting to take part in such programmes, Wilson had been denied because of his continued refusal to admit his guilt.
"I think that's wrong. He's there 17 years and he should have had some courses to help him with rehabilitation."
Wilson was receiving support from a Catholic priest, the Prisoners Aid and Rehabilitation Trust, and Mr Williams said if requested, he would also willingly also help Wilson with his rehabilitation.
- APNZ