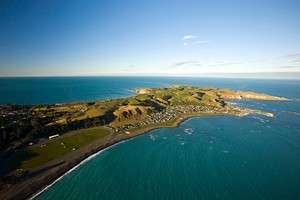 The head of Water Safety New Zealand is "baffled" with the high number of drownings in New Zealand waters this year.
His comments come after a 54-year-old Nelson man drowned after falling from a wharf while fishing in Kaikoura last night.
Sergeant Barry Hansen said the man was fishing from the town's new wharf with a friend about 11.15pm.
"As one was on the edge of the wharf looking at the sea he lost his footing and fell into the water," Mr Hansen said.
"He held on to the wharf supports for a short time, then he disappeared from sight."
His friend could not help him and ran to raise the alarm but he could not be saved.
Searchers on the Kaikoura Coast Guard vessel found his body was found at 12.15am about 100m from where he fell in.
The man's name would not be released until next of kin had been advised.
According to Water Safety New Zealand, 105 people drown in New Zealand on average each year, over the past five years.
This year has seen significantly more drownings than the previous year.
Water Safety New Zealand general manager Matt Claridge cannot understand why this year has seen such a large increase in drownings.
"To be honest, I'm baffled. I can't believe the number of drownings we've had for the year to date. We're sitting at 102."
In comparison, up until October 27 last year there had been only 71 drownings in New Zealand waters.
"We've passed last year's toll.
"It's more about what are we going to finish on for the year."
Mr Claridge said the increases are around boating, diving and a lack of supervision of pre-school children around water.
"They're the three we can put our fingers on. It's too much complacency, not enough preparation and a lack of matching one's ability with the environment."
With summer just around the corner, Mr Claridge said the "the drowning toll is only going to go up".
Today's drowning is one of several in recent weeks.
Colin Robert Chrystall, 38, drowned after his 7.5 metre aluminium catamaran sunk off the coast of Foxton on October 22.
On the same day, Anaru Charlton Gage, 30, drowned off the coast of Omaio, in the Bay of Plenty, after he got into trouble while diving for shellfish for a tangi at a local marae.
On October 24, Kuo Zhang, a 25-year-old man, drowned while snorkelling at the popular marine reserve Goat Island, north of Auckland.
Four men drowned in two separate incidents only days apart at Karioitahi Beach, south of Auckland, last month.
On October 24, Aisea Inoke, 40, his brother Makamapuhia, 38, and another relative, Hopapi Pepa, 41, all drowned while net fishing at the beach.
Only four days later, Otumakavalu Vehikite, 32, also drowned after he was dragged out to sea while fishing at the beach. None of the men were wearing life jackets.
While it is compulsory for life jackets to be worn on a boat "at times of heightened risk", Mr Claridge said when you are net fishing it is not compulsory.
However the use of life jackets is irrelevant when fishermen opt to tie the net to their feet, he said.
"If you fall over, you are going to be horizontal, the life jacket will keep you up, but with the tide moving you, you will won't be able to get your feet back very well.
"I can see the point, from a fishing point of view, because the net will scrap right along the bottom so you collect more fish. But for personal safety it is not the brightest idea."
Mr Claridge the inability of New Zealanders to swim needs to be addressed.
"We're fortunate that we have some good support to help us, because the Government doesn't prioritise it as a major.
"About $400 million is the social cost of lives lost [through drownings] each year in New Zealand. For $1200 you can teach a kid to swim and be practically safe for the rest of their lives. For that small investment it is worthwhile.
"Our biggest problem is the school curriculum. The schools are really good - I'm not beating up on them, but the curriculum doesn't make it happen like it should. The kids don't have to be in the water learning to swim."
Mr Claridge said Maori are disproportionately represented in drowning statistics, followed by Pacific Islanders.
He said this year is the first that Asian drownings have jumped since 2005.


- APNZ