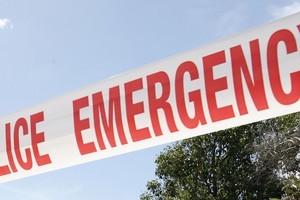 Police in Wanganui and Hamilton have launched two separate investigations after suspicious deaths in both cities overnight.
A 25-year-old Wanganui man died after being taken from a house in suburban Gonville to Whanganui Hospital late last night, while a suburban Hamilton street was cordoned off today following a suspicious death in the city overnight.
Detective Senior Sergeant Karl Thornton of the Hamilton CIB said emergency services were called to an Enderley address shortly before midnight.
"On arrival officers found a 42-year-old man suffering from a number of serious injuries.
"Taken to Waikato Hospital by ambulance, he died a short time later. We are treating his death as suspicious and hope to get a better understanding of the nature of his injuries following a post-mortem examination."
Mr Thornton said scene guards secured the property overnight and Auckland based forensic experts have assisted with a scene examination which commenced this morning.
Further south, police had received a report of a disturbance at a Whanganui property about 11.40pm and upon arriving were told someone had been taken to hospital.
Detective Senior Sergeant Dave Kirby said that at the hospital, it was confirmed that a 25-year-old man had been brought to the hospital by a small group of people who had then left the hospital.
"The man died shortly after arriving at the hospital,'' Mr Kirby said.
About 15 people were socialising at the Gonville house during the day, including the dead man.
"Alcohol was being consumed and it is believed that throughout the day and evening there were some disagreements that culminated in a more serious altercation,'' he said.
"It was at this point that the victim is believed to have been fatally injured.''
Police were not saying what his injuries were, and a post mortem examination would be carried out tomorrow to establish the cause of death.
Police had identified a number of people who were at the property and were interviewing them. Anyone who had been there and had not spoken to police should contact them, Mr Kirby said.
They also wanted to know the movements of a red Ford Telstar which was at the house and was believed to have been used to take the man to hospital.
The man would not be named until next of kin had been informed.
- HERALD ONLINE, APNZ