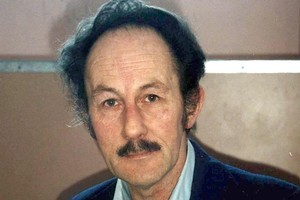 The sex offender dubbed the 'Beast of Blenheim' does not "give a stuff'' about a Parole Board release requirement that he not have contact with children under 16.
Stewart Murray Wilson, now aged 64, was in 1996 sentenced to 21 years' jail for offences against women and children spanning 25 years, including rape, attempted rape, indecent assault, stupefying, wilful ill-treatment of a child, and bestiality.
He became eligible for parole in December 2008 but the Parole Board ordered he remain in prison until his final release date of September 1, 2012, saying he was likely to reoffend if released.
The order is reviewed six monthly, the latest on October 17.
The board released its finding today saying he remained at a high risk of reoffending and he should remain in jail.
"Of significance for the board was Mr Wilson's reported response to an inquiry regarding his ability to adhere to a condition that he have no contact with any child under the age of 16 years,'' the board said.
"Mr Wilson is recorded as having stated: `I don't give a stuff about it'.''
Wilson was allowed to cross examine a clinical psychologist, whose name was withheld, who had prepared a report for the board.
"Mr Wilson had carefully thought out his questions,'' the report said.
"They focused, to a significant extent, upon his contention that (the psychologist) has misrepresented or twisted comments made by him during the interview she conducted on 1 September, 2011.''
The psychologist found Wilson was four times more likely to reoffend than the average person, and had a higher probability of committing serious violent offences within two years of his release.
She did not consider his "advancing age'' mitigated these risks.
Wilson had started seeing an ACC-funded counsellor but undertaken no other intervention aimed at addressing his offending or managing his risk of reoffending.
"He is reported to not to have requested any engagement with a psychologist and that he has not developed a release plan with his case manager,'' the report said.
Wilson told the board he intended to go whitebaiting upon his release, and that he would be supported by a Catholic brother and the Prisoners Aid and Rehabilitation Trust.
However, he admitted he did not expect to be released.
"The parole assessment report notes Mr Wilson's continued denial of his offending; his lack of co-operation in relation to any appropriate treatment programme and his unwillingness to disclose for full consideration and approval any proposed accommodation or reintegration plan,'' the report said.
"In the board's view, the risk of Mr Wilson committing a specified offence before his applicable release date remains a real and substantial one and that, by an appreciable margin, it is greater than the risk of recidivism which ordinarily arises in relation to such offending.''
It denied him release.
- APNZ