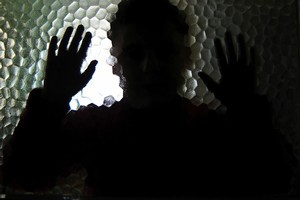 Thames police are seeking witnesses to an early morning home invasion in which the attacker was bashed with a walking stick and possibly shot with his own gun.
The incident occurred about 1.40am on Sunday at a property on Paeroa-Kopu Rd when a man and woman were woken by knocking on their front door.
"The woman saw a male at the door armed with a shotgun, and screamed," Detective Sergeant Martyn Hughes said.
"The man saw a hand protruding through a gap in the door and holding a pistol. He struck it with a walking stick, knocking it to the floor inside the house."
It appeared the male then went outside and confronted the man armed with the shotgun. While he struggled with him a shot was fired from the shotgun.
At the same time a third attacker struck the man on the shoulder with an unknown object.
Mr Hughes said police inquiries into exactly what happened had been "hampered to a degree" by the reluctance of some witnesses to speak about the incident.
He told the Herald that did not mean the victims weren't being co-operative, but other witnesses "weren't being helpful".
That made it even more important for people to give police details of any sightings of the vehicle the attackers left in.
One of the vehicles was described as a fish truck, which police have narrowed down to be a utility with a chiller unit on the back.
There is no description of the second vehicle.
"A search was commenced by responding staff but it was somewhat difficult to do given we didn't have a description of the offenders and only a partial description of one of the two vehicles used by the offenders to escape in," said Mr Hughes.
Police were checking with medical centres to see if anyone with injuries caused by the home invasion had sought treatment.
"Given the offender armed with the pistol was hit with some force by the victim's walking stick, he may have suffered an arm injury, possibly even a broken arm, and we're asking any medical centre in the area who may have treated someone for such an injury to contact us."
Mr Hughes said the incident was being taken seriously by Thames-Coromandel police, and he issued a warning for anyone who found themselves in a similar situation.
"We must reiterate the warning that unless absolutely necessary do not aggravate the situation," he said.
"Be compliant, and if any opportunity arises for you to escape, do so - it's better to flee than fight."
* Anyone with information that could help police, should call the inquiry team directly on (07) 8679-600.
Alternatively, information can be let anonymously through Crimestoppers on 0800 555-111.