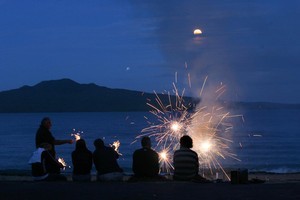 More than $1 million of taxpayers' money has been paid to people injured by fireworks in the past three years, despite a law change restricting sales before Guy Fawkes' Day.
The Government may consider further tightening the rules covering the sale of fireworks if people don't act responsibly and safely this weekend.
Figures released to the Herald by ACC show that between July 2008 and June this year, $1,023,351 was paid to people who lodged claims for fireworks-related injuries.
Burns were 69 per cent of the injuries in the 2008/09 financial year, 72 per cent in 2009/10 and fell to 64 per cent in the year ending June 30.
There were 286 new claims made in 2008/09, 310 in 2009/10 and 275 in the last financial year.
In 2007 the law on buying fireworks was tightened, limiting sales to the four days before Guy Fawkes' Day on November 5 and raising the legal purchasing age to 18.
ACC Minister Nick Smith said that as a result of that law change, fireworks-related claims had dropped by 40 per cent. In 2007, 461 people were injured, compared with 275 after the new rules came into force.
"That is welcomed but 275 injuries are still too many," Dr Smith said yesterday. "The Government will be monitoring this year's Guy Fawkes and incidents carefully.
"We want people to be able to enjoy the festivities but minimise the risks of fire, injury and danger to pets. Any noticeable increase in harm and irresponsible behaviour will result in regulations being further tightened."
Fire Service national commander Mike Hall said that in 2005 and 2006 crews responded to twice as many emergency calls as usual in the 10 days that fireworks were on sale.
"In the last few years, the only noticeable increase of calls has been on the night that the event is celebrated - usually the Saturday closest to 5 November," he said.
Guy Fawkes' Day falls on Saturday and public fireworks displays are being held around the country.
About 1135 tonnes of fireworks have been imported into New Zealand this year, up slightly from the 1116 tonnes that arrived last year.
Mr Hall said fewer people were buying fireworks, preferring to enjoy the public displays - something the Fire Service encouraged.
"For those that still prefer to buy their own, the usual warnings apply - use a torch to read and follow the instructions on fireworks before using them, never attempt to relight a firework that hasn't gone off and always keep a bucket of water or a hose handy," he said.
"Fireworks are noisy so consider your neighbours and pets when letting them off, and never point them at people."
Dr Smith also pushed the safety message, saying: "I want people to enjoy Guy Fawkes and fireworks but to do so responsibly to avoid injury, damage to property and harm to animals.
"I particularly want to encourage people to attend professional public displays that carry the least risk."