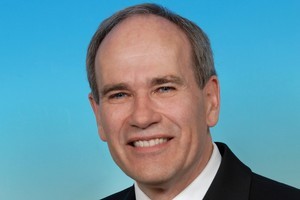 Auckland Mayor Len Brown has done an about-turn on water charges that will prove costly to wealthy homeowners in Howick and the North Shore.
Owners of expensive properties in those areas who use a lot of water will be hit with a double whammy of higher rates and higher water bills at a combined cost of about $700.
The picture is worse in Franklin, where some businesses which use a lot of water face combined rates and water bill increases of between 192 per cent and 376 per cent.
These businesses will go from paying between $3000 and $7000 to between $14,000 and $20,000, although for most Franklin households, combined rates and water bills will fall by up to per cent.
Hunua MP Dr Paul Hutchison is flabbergasted at the effect of Mr Brown's proposals, saying many business are struggling and the higher charges will tip some over the edge.
The main reason for the big impact on Franklin businesses is that under the former Franklin council, businesses paid the same rates as households.
All other councils charged businesses more than households so Mr Brown's proposal for rural businesses to pay $2.37 for every $1 paid by households will have a huge effect.
As part of the move to a single rates system for Auckland from next year, Mr Brown has to introduce a single charging system for wastewater to go with the single charge of $1.30 for 1000 litres of water that came into effect this year.
At last year's local body elections, he promoted Manukau's policy of a fixed charge for wastewater, saying adopting the Auckland City system of user pays would lead to increases of $1000 a year for some households.
Mr Brown has not modelled Manukau's wastewater system of a fixed charge for households and a fixed plus metered charge for business.
Instead, he is proposing part-fixed and part-metered charges for households and businesses.
Yesterday, Mr Brown said he believed during the election campaign that the fixed charge was the fairer way to go, but now as mayor for all of Auckland it had become evident to him that a part-fixed, part-user charge was the fairest system.
Mr Brown said a fixed charge would have a significant impact on low-income families and low household users.
The former Manukau council addressed this inequity through a rebate.
"I didn't see any benefit in fully modelling out what looked like asystem that just wouldn't work," he said.
Mr Brown said it was not possible to look at the new rating changes in Auckland solely through the wastewater charge. It was about rates and wastewater charges.
He acknowledged that some people would have difficulty with the changes but said he was seeking a fair and equitable midpoint "and I think I'm very close to it".
Figures prepared by the council for the Herald yesterday on the combined rates and wastewater charges paint a mixed picture across the region, with the biggest increases coming for Franklin businesses.
In the former Auckland City, the wealthier suburbs face combined increases of between 7.6 per cent and 16.3 per cent, in Manukau most household increases start at 4 per cent and rise to 20 per cent, and there are a lot of household increases of between 5 per cent and 16 per cent on the North Shore.
Waitakere ratepayers are the big winners with a combined drop in rates and wastewater charges of between 2 per cent and 20 per cent for households and between 18 per cent and 32 per cent for businesses.
Most Franklin and Rodney households can expect a drop in rates of up to 18 per cent.
Some councillors are concerned at the level of transparency and accountability from Mr Brown over the new rating system.
Last week, councillor Christine Fletcher tried to have two "secret workshops" to discuss the budget opened to the public. Mr Brown and a majority of councillors voted down the move.
Three weeks ago, seven councillors wrote to Mr Brown expressing frustration at the lack of accountability.
The councillors - Mrs Fletcher, Des Morrison, Cameron Brewer, George Wood, Dick Quax, Calum Penrose and Sharon Stewart - said they understood Mr Brown had executive powers in the Super City set-up but felt marginalised and disconnected from the decision-making process.
The letter said Aucklanders were increasingly concerned about affordability and the ambitious plans of the mayoral office could not be achieved through ever-increasing costs on young families on those on low incomes.