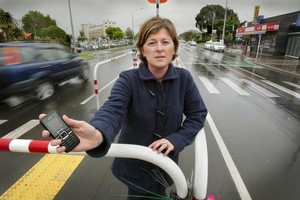 The granddaughter of a woman killed by a texting driver in Hastings last year is bravely fronting a blitz campaign against those who continue to flout the law.
Helen Small's grandmother, 93-year-old Phyllis Penman, died last year after being run down by a texting driver on a pedestrian crossing outside the Hawke's Bay Hospital.
Since the death, which Mrs Small said devastated the close, tight-knit family, she has dedicated her time to raising awareness against the illegal habit and joined frontline officers cracking down on drivers blatantly using mobile phones while driving.
This week and last, Mrs Small joined the region's police in a crackdown on texting drivers that has so far netted more than 20 law breakers, Road Policing Eastern District acting Senior Sergeant Clint Adamson said.
"We decided nationally to do a push on cellphones," he said. "It was clear after the law change people started doing the right thing, but it has slowly started to creep back in and people are using them more and more again.
"We want to push that cellphones shouldn't be used and decided locally that we wanted the face of that to be Helen. Since her grandmother died, she has been very passionate about it off her own back."
Since the death of her grandmother, Mrs Small has started her own campaign called Textoff, and on top of a lobby to the telecommunications sector urging them to push stronger warnings to consumers, has conducted many of her own roadside surveys.
"She was just so healthy and fit and absolutely amazing for her age, so to be taken out like that was extremely hard," she said.
"Our family was just devastated by what we had to go through and it's very, very hard to describe. It is just such a dangerous thing to do and there is just no need for it - there is just no text message or cellphone call that is that urgent someone has to lose their life for it."
During the two-week blitz, Mrs Small stands at a vantage point and when she sees a driver using their mobile phone alerts police waiting down the road.
"It is disappointing that there are still quite a few people prepared to do it and who have been observed quite clearly looking down texting away," Mr Adamson said. "They are quite clearly not focussing on what's going on around them.
"We applaud her efforts in wanting to help support the road safety message after the tragedy her family had, and to come out and do something positive."
The operation has also detected more than 50 people not wearing seatbelts, and Mr Adamson said the results were disappointing and expected to rise.
For more articles from this region, go to Hawkes Bay Today