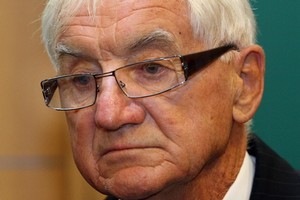 About half the staff at a prominent justice reform group have resigned en masse in protest over a change in the organisation's direction - including a new chief executive on a six-figure salary.
President Peter Williams, QC, vice-president Barry Hart, and about a dozen lawyers and accountants have quit the Auckland-based New Zealand Howard League for Penal Reform.
They had for years worked for the league for free, and have left over changes brought in by new director Tony Gibbs, who has hired former Labour Party president Mike Williams on an annual salary of $125,000 to raise money.
"He's doing a great job - $20,000 to $30,000 so far in six to eight weeks. Some of the programmes we want to do cost a lot of money," Mr Gibbs told the Herald.
"We're going to put retired school teachers into prisons to help prisoner reading and writing ... We want to put programmes in that will make a difference.
"I don't want to just sit back and moan. I want to get things done ... We have a good relationship with the Corrections Department. We're working with them, not against them."
He said that no other person at the league was being paid, including himself.
Peter Williams said he had no bad feelings towards Mr Gibbs or Mr Williams.
"Good luck to them. It's just a clash of philosophy, that's all, a difference of opinion as to the way the league should be conducted. But I respect them both.
"I'm not being critical, that's just not my way."
He said he had never charged a cent for any work he did for the league, and the league had never asked for large donations from the public.
"But the Sensible Sentencing Trust apparently have an income of $2 million a year, so they reckon, and it may be that to counter them, you need that sort of money.
"I can see their point of view. I'm just old-fashioned, I suppose."
He was sad to leave, but would look at starting a new organisation.
"It's been the passion of my life. We will have a cup of tea and biscuit organisation, which will continue welcoming ex-prisoners and people connected with those in prisons."
Mr Gibbs said he had given the league an unsecured interest-free loan, and the league was paying Mike Williams.
He said the resignations were "unfortunate", but not surprising.
"Peter Williams is a lovely man and I wish him all the best for the future ... we disagree about various things, but ... there's no bad blood and I wish him well."