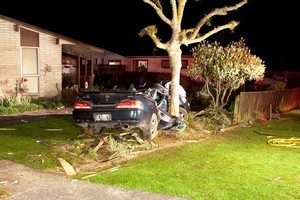 Students have been offered counselling following a car crash that left one teenager dead and another critical.
Shannon Robert Waaka, 17, was killed early yesterday morning when the car he was driving smashed into a power pole on Browning St in Cambridge, in the Waikato.
Three passengers were rushed to Waikato Hospital.
A 20-year-old man suffered serious injuries and last night remained in a critical condition in the hospital's intensive care unit.
A 19-year-old woman was treated in the emergency department before being discharged, while a 16-year-old girl was last night in a stable condition.
It is understood at least some of the people involved in the accident, including the driver, had been Cambridge High School students.
Principal Phil McCreery said the school was helping those affected.
"Obviously [the driver] was known to our kids or close to some of them and they've been supported, for sure."
Browning St resident Mary Anderson said her partner rushed outside to help while she phoned an ambulance.
"It was all on out there, everyone had gathered around. I didn't actually go to the car but ... it was horrific, not nice at all."
Another resident, Leslie Wood, said she woke up to a "massive bang" followed by commotion on the street.
A friend of the dead teenager said he was "one of the nicest people I've ever met in my life".
The friend said they had heard about the accident on the radio.
"I thought it couldn't be someone I know because I've just moved to Cambridge, but it was. I can't believe it."
District Road Policing Manager, Inspector Leo Tooman, said though the crash is still under investigation, it appeared speed, alcohol, not wearing seat belts and driver inexperience were all contributing factors.
Police are still awaiting toxicology results to confirm if the driver had been drinking before the crash.
"It appears the car was being driven at speed before it collided with a power-pole and spun out of control, its progress being halted by a tree on the front lawn of a family's home.
"Mr Waaka was in breach of his restricted licence at the time of the crash and indications from the Serious Crash Unit, who returned to the scene yesterday, are that the car was travelling too fast for the conditions."
"The vehicle involved in the crash didn't belong to Mr Waaka and we need to look at why he was driving it outside the conditions of his licence.
"We now have two families struggling to come to terms with what appears to be a completely avoidable tragedy.
Calls to slow speeding teens
The accident followed another involving teenagers on Saturday night.
A 16-year-old suffered serious injuries when the ute he was driving lost control at a bend on Atarau Rd, about 24 km north-east of Greymouth.
He and his 16-year-old passenger, who suffered moderate injuries, were taken to Greymouth Hospital.
On Friday two 10-year-old girls from Te Awamutu were rushed to Waikato Hospital following a car accident outside their school. They are in stable conditions in a children's ward.
Taupo MP Louise Upston, whose electorate includes Cambridge, said yesterday's accident was a tragedy and more needed to be done to prevent teenagers from speeding on roads.
"Any measures that we do put in place need to be around saving people's lives. It's just an absolute tragedy that this has happened," she said.
Senior Sergeant Gillian Meadows of Hamilton Police said the 17-year-old driver was on a restricted licence and it appeared the vehicle was going too fast for the conditions.
The serious crash unit is investigating and police are awaiting toxicology results.
Drink drive message not getting through
Inspector Tooman said 15 other drivers were processed for driving with excess breath alcohol in the Waikato District over the weekend, with the highest reading taken from a 43-year-old man in Ngaruawahia on Saturday night who blew 994mgms about 11.20pm.
"But it's not just during weekends when people are at risk.
"On Thursday afternoon a woman was stopped by Police near Morrinsville as she went to pick her children up from the school bus.
"When breath tested the 46-year-old woman returned a result of 579mgms, this occurred at 3.50pm meaning she was a risk not only to herself and other motorists but to her children as well."