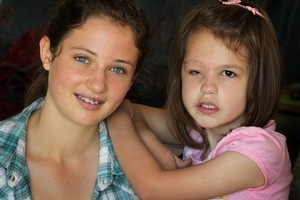 A special little girl whose miracle operation became a reality thanks in part to selfless Herald readers will now be a symbol of generosity for other children with rare conditions.
For the first time in her life, Papamoa 6-year-old Zahnee Campbell will soon see clearly from both her eyes after she travelled to New York for surgery to treat her debilitating facial vascular hemangioma tumour - an external and internal birthmark - which came from behind her right eye days after birth.
Her grateful parents have now decided to repay the support they received in their quest to raise $60,000 by turning their daughter's cause into a charity to help other families in need.
Zahnee's rare condition, thought to be the only one of its kind in New Zealand, caused her eyesight to deteriorate, affected her co-ordination and left her with headaches and painful pressure on her shoulders from repeatedly having to balance her head on an angle.
The life-changing procedure she underwent on September 29 has repositioned her eyes and given her a newfound sense of depth and perception.
Her mother, Jade Riley, said the moment Zahnee was able to reopen her right eye was magical.
"We had been telling her that as soon as she could open her eye, we'd take her to this six-storey toy shop in New York. When she did, she was riding on a ferris wheel in the toyshop with her dad ... it wasperfect."
The only item she picked out was a pink and white soccer ball.
"As she opened her eyes, she told us, 'My eye is better now - will I be able to join a soccer team?'."
The family returned home to Tauranga at Labour Weekend.
"Zahnee couldn't wait to get back to school to show everyone her new eyes. She couldn't get there quick enough."
Her teachers have been amazed at how the operation had changed her appearance, confidence and learning.
"We couldn't believe the difference in her, just the physical look of her had changed overnight - it was amazing to see," Ms Riley said.
Zahnee is scheduled to have plastic surgery next year, but her parents have decided not to seek any further corrective operations for her.
"She's perfect to us at the moment and we are just happy to see what happens now. If she gets to 15 or 16 and wants it all done, we'll go fromthere."
The operation came after years of hitting constant dead-ends and months of hard fundraising.
The family were told by New Zealand ophthalmologists that the operation could not be done - and when Ms Riley eventually found a solution overseas, their application to a special Government health fund was declined.
But Ms Riley said their frustrations had been overshadowed by the generosity of those in her community and others she had never met, such as one Herald reader who made an anonymous $10,000 donation.
A group of Tauranga Girls' College pupils also made Zahnee their school project and approached businesses across the city for support.
One of the group, 14-year-old Amanda Somerfield, has now vowed to help Ms Riley keep the cause going by fundraising each year to support other children in need.
Ms Riley plans to use the bank account she set up to raise $5000 every September, with Zahnee presenting a cheque each anniversary of her operation.
"It will be nice for her to be recognised as giving back to the community, because we'll never forget the people who supported us," Ms Riley said.
"Everyone has been fantastic - and that's the part that will live with us forever."
HELP THE CAUSE To help Zahnee's Cause help others, donate to the bank account 12-3217-0140729-00, or buy a cookbook by Jade Riley by sending an $8 cheque to Cook Book, PO Box 11186, Papamoa 3151. Facebook site "Zahnee's Cause".