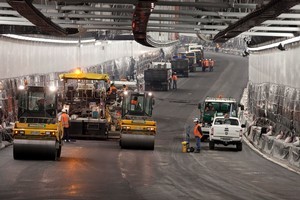 Auckland's Victoria Park motorway tunnel, opening to traffic in two weeks, has been rated to take dangerous goods banned from structures such as the Northern Gateway toll road.
That is thanks to a protective shield designed to keep any explosion or fire of up to 1350C from penetrating a dedicated escape route on the tunnel's eastern side.
The New Zealand Transport Agency will allow petrol and chemical tankers and other dangerous goods vehicles though the 450m northbound tunnel, rather than making them take detours through city streets.
To meet the fire rating an innovative system supplied by a Penrose company was needed to seal joints between concrete panels lining the tunnel and to ensure fire or smoke does not get through holes for cables, pipes and wiring.
CSD Sealing Systems director Frank Wiseman said yesterday the sealant was designed to expand as fire approached to ensure no gaps were left in the shield.
"If there's an inferno inside the tunnel, anyone who makes it safely into the escape corridor must expect to be able to flee the scene without impediment," he said.
"The fire won't break through it, or not until its gone past its specification, which is two hours in that sort of heat."
"There was no other system suitable that would meet the specifications and warranties required to meet this demanding fire rating."
The NZTA confirmed that Victoria Park will be New Zealand's first rated dangerous goods tunnel, although a bylaw has been suspended temporarily to allow petrol and chemical tankers through Christchurch's Lyttelton Rd tunnel for a 10-minute period each night.
Dangerous goods carried between Auckland and Northland have to use the coastal highway through Orewa rather than use the Johnstone's Hill tunnel on the toll road.
Agency highways manager Tommy Parker said his organisation believed that, given the highest standards of safety in the Victoria Park tunnel's design, allowing dangerous goods through was preferable to sending them via city and suburban streets.
Operating systems, including roof-mounted jet fans to remove smoke and gasses, and deluge sprinklers, are being tested extensively before two of the tunnel's three traffic lanes open on Monday, November 14.
The agency says the sprinklers will be able to swamp the tunnel with 250 tonnes of water an hour, a rate which if maintained over 24 hours would theoretically deliver the equivalent of Auckland's annual average rainfall.
Emergency telephone and exit doors are stationed every 50m along the tunnel, leading to the escape route, which will be pressurised to keep it free from smoke - and mobile phones will be able to work inside it.
When the first two lanes open, northbound lanes of the overhead motorway viaduct will close for the structure to be reconfigured to take only southbound traffic from January.
The third lane of the tunnel, which Prime Minister John Key symbolically opened on Saturday and which is the main part of a $406 million programme of motorway improvements between Spaghetti Junction and the Harbour Bridge, will open in March.
Safety first
*Victoria Park motorway tunnel can take dangerous goods banned from structures such as the Northern Gateway.
*A protective shield can prevent explosions or fires penetrating the escape route.
*Roof-mounted jet fans, to remove smoke and gasses, and deluge sprinklers are being tested extensively.
* Two of the tunnel's three lanes open on November 14.